DECT-based Handheld Phone offers interference-free operation.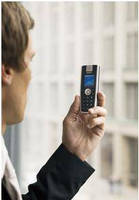 DECT-based Handheld Phone offers interference-free operation.
August 11, 2010 - Empowering users with wireless communication along with benefits and features of VoIP telephony, snom m9 supports basic functions of the MS Office Communications Server 2007 R2 and supports integration into several SIP based IPPBXs. Cordless device, supporting 4 concurrent calls and ability to connect up to 9 handsets, features menu-driven GUI, USB interface, and flash memory. Working range for snom m9 Access Point is ~50 m indoors and ~300 m outdoors.

(Archive News Story - Products mentioned in this Archive News Story may or may not be available from the manufacturer.)
Original Press release

snom technology Inc.
1600 Osgood St.
North Andover, MA, 01845
USA



snom m9 VoIP DECT Phone - Unleashed VoIP


The snom m9 is the next generation DECT handheld that empowers users with the convenience of wireless communication along with the widely accepted benefits and feature richness of Voice-over-IP telephony. The snom m9 promises to deliver excellent speech quality.

The DECT based snom m9 is the world's first cordless device which supports the basic functions of the Microsoft® Office Communications Server 2007 R2!
Furthermore the snom m9 naturally can be integrated into several SIP based IPPBXs. Supporting 4 concurrent calls and the ability to connect up to 9 handsets, the snom m9 provides excellent value for money and is ideally suited for business and private usage.

By combining professional functions of versatile business communication with the intuitive features of the mobile-carrier world, the snom m9 is ideally suited for professional and private use alike.

With features such as hands free mode, calling line identification (CLI) by displaying name, number and image of the caller as well as typical mobile-phone features such as Address Book, Calendar, Calculator and Alarm function, the snom m9 provides the perfect blend of mobility and accessibility.

The DECT based snom m9 provides interference free communication by making use of the dedicated DECT frequency band.

In addition, the snom m9 delivers the typical benefits of the DECT world such as high standby time and superior speech quality in addition to internet application integration, thus providing a decisive edge over WLAN handhelds. The working range of the snom m9 Access Point is roughly 50m indoors and approx. 300m outdoors (depending on the actual topology of a building and/or outdoor premise).

The intuitive design of the snom m9 makes it a highly consumer friendly and convenient handheld device. With its illuminated keypad and TFT color display, the cordless phone is ideally suited for Enterprise and SoHo environments alike. The menu driven graphical user interface allows intuitive usage and five navigation keys provide easy access to most of the phone functions saving users from the hassle of searching through complicated menus. Furthermore, the USB interface and the large flash-memory provide an excellent potential for future enhancements.

The attractive design underlined by its modern look is what defines this state of- the-art VoIP wireless telephone.

In addition, the snom m9, boasts integration possibility with Microsoft(TM) Office Communications Server 2007 R2, making it the only digital cordless phone in the market to offer this benefit. A further advantage of snom m9 - the terminal already supports the latest IPv6-standard. Such features combined with automatic configuration download make the snom m9 a truly unique cordless device.

Last but not least, the snom m9 incorporates the renowned SIP stack from snom with its decade long proven interoperability and technology leadership.

snom m9 sales information:
snom m9 is available NOW and will be available for use in the following regions later on this year:

US

Canada

Please note:
All characteristics listed can, due to the constant development of our products, be changed without special notice.

Depending on local specifications or market demands it may be the case that products are only available with deviating features or settings. Deviations from the illustrations, including the color, are possible.

For price information, inquiries or questions about availability please get in touch with our Sales department or with your local agent.

---


Start Your

Free


Subscription to


Industry Market Trends

.