DC-DC Converters target microcell wireless transceivers.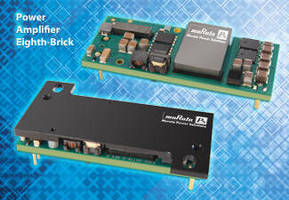 DC-DC Converters target microcell wireless transceivers.
October 3, 2013 - Designed specifically for use with multi-channel amplifiers, PAE Series delivers 100 W with typical efficiency of 92.5%. Fully isolated units operate over industry standard TNV input voltage range of +36 to +75 Vdc around nominal +48 Vdc. Single +29.8 Vout can be adjusted from +23.84 to 32.78 Vdc. Housed in open frame eighth-brick package, through-hole mounted converters feature temperature range of -40 to +100°C and input to output isolation of 1,500 Vdc.

Original Press Release

Murata Power Solutions
11 Cabot Blvd.
Mansfield, MA, 02048
USA



Murata Power Solutions Announces : High Efficiency DC-DC Converter Targets Medium Power Multi-channel Microcell Transceivers


Murata today announced the Murata Power Solutions PAE series of high efficiency 100 Watt DC-DC converters. The series has been designed specifically for use with multi-channel power amplifiers such as those found in the latest generation of microcell wireless transceivers.

With a typical efficiency of 92.5%, the fully isolated PAE series keeps power dissipation on the module to a minimum, therefore reducing system temperatures and helping network operators save energy costs. The PAE series delivers 100W in an industry standard open frame eighth-brick package; the through-hole mounted converter is available with an optional baseplate for conduction cooled / cold wall applications typically found in base-station applications and remote radio heads.

The converter operates over the industry standard TNV input voltage range of + 36 to +75 VDC around a nominal +48 VDC. The single +29.8 Vout can be adjusted over a wide range, from +23.84 to 32.78 VDC, to maximize flexibility for power amplifier system designers.

Controls include remote On/Off control of either negative or positive logic. In addition, the converter has a number of protection features including over current, over temperature, input under voltage and output short circuit.

The PAE converter is designed to operate in environments ranging from -40 to + 100 degrees C. Input to output isolation is 1,500 VDC with a Basic insulation system to meet industry safety requirements. An optional baseplate is offered with an available "baseplate connect pin" that can be connected to system ground, providing additional flexibility for power system design engineers.

The PAE series has been designed to meet the demanding "low noise" requirements in modern communications systems and will require minimal Vout filtering in most applications.

Other example applications for the PAE include indoor/outdoor Wi-Fi® installations, RF test equipment, CATV systems, and MRI imaging equipment.

Pricing for the base model in OEM volumes $27.00. The lead-time for production units is 12 weeks. Sample quantities will be available from stock.

Further editorial information from:
John Sutherby
Marketing Communications Director
Murata Power Solutions
Tel: +1-508-964-5117
E-mail: jsutherby@murata-ps.com

About Murata Power Solutions
Murata Power Solutions (www.murata-ps.com)  is headquartered in Mansfield, Massachusetts, with over 1,300 employees worldwide. Murata Power Solutions designs, manufactures and distributes DC-DC Converter  , AC-DC Power Supply  , Magnetic   and Digital Panel Meter   product lines, and offers these products in custom, standard and modified-standard variations. Murata Power Solutions products are typically used within electronic applications serving major global market sectors including telecommunications, computing and industrial controls.

Murata Power Solutions is a division of Murata Manufacturing Co., Ltd. (www.murata.com)  , a worldwide leader in the design, manufacture and sale of electronic components and power supply modules. Murata's devices are found in a wide range of applications including consumer and automotive electronics, and wireless devices. The company has employees and manufacturing facilities throughout the world.

---