DC/DC Converters mount to uneven and non-conductive surfaces.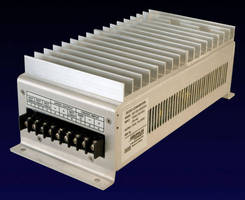 DC/DC Converters mount to uneven and non-conductive surfaces.
September 24, 2012 - Supplied in 113 x 115 x 261 mm, chassis-mount enclosures, BAP 236TH Series generate up to 250 W and are cooled by heat-sink fins on top of units; no fans†or attachment to†heat-sinking surface are required. Converters operate from 24 V (21–30 V), 48 V (42–60 V), or 125 V (105–145 V) input and provide tightly regulated outputs of 24, 48, or 125 Vdc. Efficiency is 85% at full load, depending on I/O configuration, and rated operational range is†-20 to +50įC for full specification.

Original Press release

Absopulse Electronics, Ltd.
110 Walgreen Rd.
Carp, ON, K0A1L0
Canada



DC/DC Converters for Curved, Uneven or Thermally Non-Conductive Surfaces


Pure Convection cooling - no fans or installation on a heat-sinking surface required

ABSOPULSE Electronics BAP 236TH Series dc/dc converters generate up to 250W output power.† Cooling is by heat-sink fins on the top of the units - no fans and no attachment to a heat-sinking surface are required. The converters can be installed on curved, uneven and non-conductive surfaces, such as plastic, and are ideal for installation on the curved surfaces of vehicles or machine chassis. They have generous design headroom and are rated for operation over a -20oC to +50oC temperature range for full specification. The units comply with EN/UL60950 and equivalent industrial safety standards. A railway grade version which meets EN50155 is also available.

The BAP 236TH converters operate from inputs of 24V (21-30V), 48V (42-60V) or 125V (105-145V) and provide tightly regulated outputs of 24V, 48V or 125Vdc. Other input/output configurations are available on request. An optional built-in redundancy diode allows for paralleling and N+1 operation. The redundancy diode also allows for connection to a back-up battery. Efficiency is 85% at full load, depending on the input/output configuration.

The converters are filtered to meet EN55022 Class B conducted and radiated requirements. Protection features include 2250Vdc input/output isolation, overload, over-voltage and short circuit protection with thermal shutdown and self-resetting.† An output fail alarm (Form C) is available as an option.† Other options include conformal coating, heavy ruggedizing and extended temperature ranges.† The units are housed in compact, ruggedly constructed 113 x 115 x 261mm chassis-mount enclosures.

Standard versions of the series are priced in the C$260 range in quantities of 100.

Company Profile
Established in 1982, ABSOPULSE Electronics specializes in the design and manufacture of high-reliability, heavy-duty switch-mode power conversion products for the railway, industrial, military, marine, aeronautic, oil and gas, utility and telecommunications sectors.

Product Range
The company's product line includes AC-DC power supplies and battery chargers, DC-DC converters, sine-wave inverters, phase and frequency converters, DC-input dimmable back-light inverters for LCD displays, DC-output UPS systems, laboratory power supplies and complete power systems in 19" and 23" racks.

Design Capabilities
ABSOPULSE provides cost-effective solutions to almost any input, output and mechanical configuration requirement.

---


Start Your

Free


Subscription to


Industry Market Trends

.