Product News: Retail & Sales Equipment, Packaging Equipment
Custom Promotional Products have look and feel of leather.
Press Release Summary: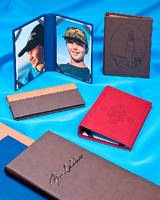 March 19, 2013 - Featuring case made construction, ALT Custom Promotional Products can be deeply embossed to create additional high-end appearance. Washable presentation and recognition products are made from FiberMark's LaCrema™ urethane-coated, fiber-based material that provides durable leather-like covering. Offered in full range of colors, products include certificate holders, checkbook covers, datebook holders, display boxes, photo holders, portfolios, product packaging, and menu covers.
Advanced Looseleaf Technologies Inc.
Original Press Release
Custom Presentation Packaging Features Premier Construction, Look and Feel
Press release date: March 13, 2013
A full range of custom, turned-edge presentation and recognition products made from a new soft, leather-like material that provides a luxurious look and feel, yet is extremely durable and washable, is being introduced by Advanced Looseleaf Technologies of Dighton, Massachusetts.

ALT Custom Promotional Products are made from FiberMark's LaCrema™, a urethane coated, fiber-based material made with patent pending technology that provides a durable, resilient, luxurious leather-like covering for upscale products.  Featuring case made construction, the presentation and recognition products made with LaCrema™ can be deeply embossed for creating an additional high-end appearance.

Manufactured to customer requirements, ALT Custom Promotional Products are thick, plush, easy to clean, and offered in a full range of colors.  Typical items include certificate holders, checkbook covers, datebook holders, display boxes, diploma holders, game boards, gift boxes, photo holders, portfolios, product packaging, menu covers, and related products.

ALT Custom Promotional Products made from FiberMark's LaCrema™ are priced according to design and quantity made in the USA with 12-18 days typical delivery.  Free photo holder samples are available upon request.

For more information contact:
Advanced Looseleaf Technologies
Laurie Marquardt, Marketing
1424 Somerset Ave.
Dighton, MA 02715
(800) 339-6354  
FAX (508) 669-6143
e-mail: lmarquardt@binder.com 
www.binder.com