Counting Scale aids inventory checks with triple range.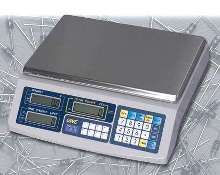 Counting Scale aids inventory checks with triple range.
May 30, 2003 - Series SAC allows user to automatically change capacity as load is added to scale. Available in 15, 30, 60, and 150 lb capacities, portable unit can count items as small as 0.003 oz. It includes rechargeable battery, dust cover, backlighting, and check-weighing alarm. RS232 or printer output is optional.

(Archive News Story - Products mentioned in this Archive News Story may or may not be available from the manufacturer.)
Original Press release

Intelligent Weighing Technology
3401 West 5th
Oxnard, CA, 93030
USA


It's As Easy As SAC! Unique Triple Range Counting Scales Aid Inventory Checks
The SAC counting scale from Universal Weight Enterprises (UWE) has a unique triple range that allows you to automatically change the capacity as you add load to the scale. You can sample at the low range then weigh larger quantities with the knowledge that you are getting the best possible accuracy. Previously this kind of accuracy was only available with counting scales fitted with two platforms, a much greater expense! The new technique, designed specifically for the Manufacturing Industry, is made possible by sophisticated software combined with state-of-the-art electronics.

Counting is so easy with the SAC. You can add a known quantity as your sample, key in a number of pieces per lb or use the on-board memory to recall previously entered piece weights. Available in 15 lb, 30 lb, 60 lb and even 150 lb capacities, the SAC will meet most applications, able to count items as small as 0.003 oz (0.1 g)

Ultra portable and fitted with a long lasting rechargeable battery, the SAC is ideal for taking inventory at various locations or dispensing fixed quantities. Full of features, the SAC comes with dust cover, backlighting for difficult lighting conditions and a check weighing alarm. The A/C adaptor/charger is standard equipment. An RS232 or printer output is an option.

Supported by a nationwide certified scale dealership network, the entire range of UWE products are warranted for 12 months, parts and labor.

Call Intelligent Weighing Technology Inc. (866) 920-3000 Toll free for details or see them on the web at www.intelligentwt.com
---


Start Your

Free


Subscription to


Industry Market Trends

.