Cordless Spiral Saw operates at 30,000 rpm.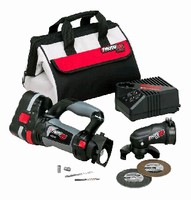 Cordless Spiral Saw operates at 30,000 rpm.
December 8, 2005 - Powered by 2.4 A BLUECORE(TM) battery pack, RotoZip® 18 V Cordless Spiral Saw features adjustable foot/base that allows cuts up to 1 in. thick, and 5/32 in. collet system that accommodates XBIT(TM) accessories. Dust resistant switch protects tool against debris. With soft-grip, on-tool body and detachable handle, saw is suited for cutting out drywall, countertops, or wall tile; metal stock, pipe, and ductwork; grinding metal; and rust/paint removal for small sized jobs.

(Archive News Story - Products mentioned in this Archive News Story may or may not be available from the manufacturer.)
Original Press release

Bosch Power Tools & Accessories
1800 W. Central Rd.
Mt. Prospect, IL, 60056
USA





New 18-volt Cordless RotoZip® Spiral Saw® Cuts Anytime Anywhere




Mt. Prospect, Ill. (December 2, 2005) - RotoZip® by Bosch, the world's most popular and versatile Spiral Saw®, just cut the cord with the release of the RZ18V 18-volt Cordless RotoZip Spiral Saw. Offering the same power and speed as its corded counterparts, the newest addition offers complete RotoZip attachment and accessory compatibility for all types of applications. And since it is powered by the new Bosch BLUECORE(TM) batteries, guaranteed to last up to 50-percent longer, the RZ18V is the perfect go-to spiral saw for any Bosch cordless power tool collection.

With all the various attachments, RotoZip applications seem endless: cutting out drywall, countertops or wall tile; cutting off floor tile, metal stock, pipe and duct work; even grinding metal and rust/paint removal for smaller sized jobs, and so much more. For electricians, tile installers, remodelers, plumbers or HVAC contractors, a cordless RotoZip means a convenient time-saver ready to go whether an electrical outlet is available or not. It also means no more cords to pull up ladders or to become snagged across the jobsite. And for anyone managing a truckload of tools, one less tool or extension cord to untangle or wrap is always the preference, especially at the end of the day.

The 4.9-pound RZ18V boasts an impressive 30,000 RPM, over 4,000 more RPM than the closest competitor. The tool utilizes the newest Bosch battery technology, the 2.4 AMP 18-volt BLUECORE battery pack. Designed to offer 50-percent longer life than previous Bosch batteries, BLUECORE utilizes specially placed cooling rods to dissipate heat and prevent hotspots throughout the pack. All BLUECORE batteries come with a two-year guarantee against failure, or the company will replace the battery free.

The RZ18V features all the same industry leading features that make it the powerful and comfortable long-lasting tool professionals have come to expect from RotoZip by Bosch. A dust resistant switch prevents the contamination of the tool by protecting against debris. An adjustable foot/base allows cuts up to one-inch thick. And a 5/32-inch collet system accommodates the new super-durable XBIT(TM) accessories, which last up to five-times longer and have twice the strength of standard bits.

Additional features include a soft-grip on-tool body for maximum comfort and less vibration. A detachable handle offers flexibility for extra control as well as bit and wrench storage. And a new compartment located just above the battery also provides extra storage for bits, collets and wrench, eliminating the tendency to lose important accessories.

The RZ18V will be available as a kit (RZ18V-2100) and in a tool-only execution (RZ18V-1100). The RZ18V-2100 Cordless Spiral Saw Kit will include the following:
o RZ18V Cordless Spiral Saw with 18-volt 2.4 AMP BLUECORE battery
o Zipmate® attachment
o Bosch 30-minute single bay charger
o 1 - XB-DW XBIT(TM) for drywall
o 1 - XB-MP multi-purpose XBIT
o 1 - RZMET Cut-off wheel for metal
o 1 - RZMAS Cut-off wheel for masonry
o 3 - Collets (1/8, 5/32, and 1/4-inch)
o Canvas bag

The RZ18V-1100 Cordless Spiral Saw Kit will include:
o RZ18V Cordless Spiral Saw
o 1 - XB-DW XBIT(TM)for drywall
o 1 - XB-MP multi-purpose XBIT
o 3 - Collets (1/8, 5/32, and 1/4-inch)
o Canvas Bag

About RotoZip by Bosch:
RotoZip® was founded in 1972 when a professional drywall contractor sought a better faster way to cut drywall. Focused on saving time and money, while improving his results, this single vision soon spawned a complete line of high performance professional tools, accessories and attachments for cutting a wide variety of building materials. Bosch, long recognized and admired worldwide for unparalleled engineering and performance, acquired RotoZip in 2003. Today, the new RotoZip by Bosch continues to build upon the same strong foundation established over two decades ago as the world's number one Spiral Saw® system. Visit www.RotoZip.com.

About Bosch North America:
In addition to power tools and accessories, in North America the Bosch Group manufactures and markets automotive original equipment and aftermarket products, industrial automation and mobile products, security technology, packaging equipment and household appliances. Overall, Bosch employs more than 23,300 associates in more than 80 facilities throughout North America and reported sales of $6.6 billion in 2003. Visit www.bosch.us.


---