Cordless LED Work Light features multi-directional head.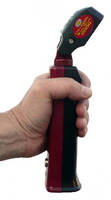 Cordless LED Work Light features multi-directional head.
August 26, 2011 - Designed to enable hands-free use, WorkStar 2000 is equipped with integral magnets and retractable hook as well as multi-directional head that stays in place once directed where it is needed. Work light is supplied with belt clip for portability, 12 V charger, 110 V charger, and connection in base that allows mounting product to tripod. Rechargeable with runtime up to 10 hours, WorkStar 2000 includes LED charge indicator.

(Archive News Story - Products mentioned in this Archive News Story may or may not be available from the manufacturer.)
Original Press release

Maxxeon Inc.
1025 Richmond Road, Suite 1108
Ottawa, ,
Canada



New Light Weight Industrial Lighting Tool Delivers Heavyweight Performance


Industrial techs hunting for more effective task or inspection lighting can look toward technology to provide solutions to today's shop lighting problems.

Lighting tool manufacturer Maxxeon Inc. today announced the advent of the WorkStar 2000, the third generation of cordless LED work lights developed by the company since the invention of the original WorkStar 1200 in 2003. This work light continues the tradition of efficiency and reliability of previous products, while adding several new features that will benefit the user.

Company spokesman, John Schira, recently revealed the features of the new tool. "The WorkStar 2000 retains the multi-directional lighting head, but thanks to new technology, light output has been vastly increased. The MRO technician simply suspends the light by its hook or its magnets and turns the LED light head to direct the light where he wants it, leaving his hands free. Since the light head "stays put", this solves another especially aggravating problem for industrial mechanics - trying to make repairs while the work light moves around and glares into their eyes. Features such as dual light level, integral magnets and retractable hook combine with the new, ergonomic design to make it the ideal work light in any shop."

The light includes a belt clip to aid in portability, a 12 volt charger, a 110 volt charger, and has a connection in the base to allow mounting the product to a tripod. The light is rechargeable with a run time of up to 10 hours, and includes an LED charge indicator to make the operator aware of the state of the charge.

The WorkStar(TM) 2000 replaces the WorkStar(TM) 1400 work light which is still in use in thousands of industrial maintenance shops across the country. The new work light will be available from industrial distributors in October.

Maxxeon Inc. is a designer and manufacturer of portable lighting tools for technicians and will be exhibiting at the AAPEX trade show, booth # 774, from November 1 to 3 at the Sands Convention Center in Las Vegas, Nevada.

---


Start Your

Free


Subscription to


Industry Market Trends

.