Product News: Fluid & Gas Flow Equipment
Coolant Filtration Unit serves metal working industry.
Press Release Summary: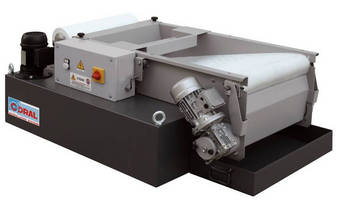 July 1, 2011 - Offered in 6 models with tank capacities from 135-1,150 L, Coral DynaClear PLUS occupies minimal floor space. Design lessens consumption of filter fabric and uses hydrostatic pressure to effectively filter both water soluble and neat oil coolant. Pendulum scraper separates sludge from filter fabric and sludge is collected in tank while used filter fabric is rewound for disposal.
Original Press Release
ITA, Inc. Announces Launch of New Coolant Filtration Line in North America
Press release date: June 29, 2011
ITA, Inc., a leading supplier of machine tool accessories and components, announces the North American launch of the DynaClear PLUS coolant filtration line for the metal working industry. DynaClear PLUS is manufactured by Coral, a leading European manufacturer with over 50 years experience building high quality, powerful air purification systems. This introduction comes five years after Coral's successful launch in the European marketplace.
Using innovative design and operating principles, the Coral DynaClear PLUS utilizes less floor space and consumes less filter fabric while the special design causes an increase in hydrostatic pressure and better cake buildup for improved filtration of both water soluble and neat oil coolant.
A standard feature of the DynaClear PLUS is a pendulum scraper that separates the sludge from the filter fabric. The sludge is collected in a tank and the used filter fabric is rewound for easy disposal. The DynaClear PLUS is available in 6 different models with tank capacity ranging from 135 liters to 1,150 liters.
For more information on DynaClear PLUS contact: ITA, Inc. PO Box 1606 Berlin, MD 21811 410-777-8555 info@ita.cc ita.cc