Product News: Controls & Controllers, Mining, Oil Drilling & Refining
Controllers are designed for artificial lifts.
Press Release Summary: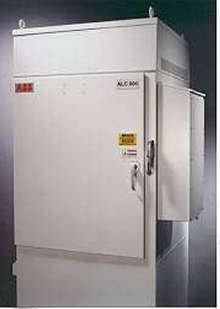 January 23, 2003 - ALC 600 Series controllers are offered with power electronics, variable-speed drive technology, and direct torque control, eliminating need for external PLC or hardwired control logic. Pole-mounted units have 5-100 hp capacity. Pad-mounted units include single-inverter construction and same capacity range. Dual-inverter models range from 20-120 hp. Applications include rod pumps, progressive cavity pumps, and ESP pumps.
Original Press Release
ABB Introduces First Complete Line of Standard Controllers for Artificial Lifts
Press release date: January 17, 2003
Precise Motor Control of Rod Pumps, Progressive Cavity Pumps and ESP Pumps Optimizes Production and Reduces Both Maintenance and Energy Costs
Houston, Texas, January 15, 2003 - ABB's complete line of ALC 600 standard artificial lift controllers -- for Rod Pumps, Progressive Cavity Pumps, and ESP Pumps -- feature a new generation of power electronics and variable speed drive (VSD) technology. The hardware, standardized in cabinetry for easy installation and use on wells in all conditions around the world, is built in combination with industry-specific proprietary ABB software solutions that optimize production while reducing maintenance and energy costs.
Precise speed regulation of the motor in Rod Pump, ESP and PCP applications (to ensure both maximum inflow from the well and optimal pumping speed) will optimize production -- and have shown to result in volume production increases of over 40%, note ABB experts; VSD's also reduce both downtime and energy costs. Such benefits typically yield a full payback on controllers in as little as 3 - 9 months, the company noted.
Built for artic, desert or tropical conditions in tamper-proof, heavy-gauge, powder-coated steel enclosures that meet all oil industry requirements, the electronics of the controllers are housed in a separate NEMA 4 compartment, and the heat sink, optional filter and transformer are located in a ventilated, dust-protected NEMA 3R section. Pole-mounted units, built with a 5 - 100 HP capacity, are used primarily for PCP applications; pad-mounted units include a single-inverter construction, ranging from 5 - 100 HP and are used mostly for PCP and ESP applications. A dual-inverter (Active Front End) model, used for Rod Pump applications, ranges from 20 - 120 HP.
The ALC 600 product line is the second generation of ABB artificial lift controllers and is fully compatible with the more than 5,000 ABB VSD's in use on oil fields worldwide. The VSD's utilized throughout the new line are the first standard controllers to feature DTC (Direct Torque Control) -- encoder-less technology that is integrated with control software and eliminates the need for external PLC or hardwired control logic. The fast response time of the controllers (which calculate motor speed/torque 40,000x per second) protects motor, rod and pump from catastrophic failure and makes the drives virtually trip-less while in operation. ALC 600 PCP and ESP controllers are fully compatible with most down-hole sensor equipment and are able to collect and feed all data from well instrumentation to SCADA systems. Local instrumentation also can also be connected to the VSD and displayed on the ALC 600's operator interface.
The Rod Pump Controller combines the function of a VSD and a pump-off controller in one unit. It is the only product on the market with advanced multi-set fluid level control and patented Rod-Saver software, which makes it easy for producers to increase production and reduce rod stress and rod compression. The active front-end design mitigates harmonics and produces a near-unity power factor while accurately controlling the rod speed at all times (regardless of regeneration). A built-in dyna card capability allows the operator to access critical well information from either a built-in sunlight-readable color LCD display, a portable PC, or via a SCADA system.
For more information and a free CD that details the entire product line, contact the ABB Drives, Motors and Machines office for Artificial Lift Controllers at Artificial.lift@us.abb.com; in the Americas, Erik Torseke at 1-713-303-2459; in Europe, Asia and Middle, Jaakko Jarvisto, +358-1022-23888.
ABB Inc., Automation Technologies, Drives, Motors and Machines, is the world's largest manufacturer of electric motors and drives. In the USA, an integrated channel of sales representatives, distributors, and system integrators allow ABB, New Berlin, Wisconsin, to supply a complete line of energy-efficient electric drives, motors and engineered drive systems to a wide range of industrial and commercial customers. Products manufactured include AC & DC variable speed drives for electric motors from 1/2 through 135,000 HP, large AC machines and drives, medium-voltage drives, power electronics and rectifier systems, AC & DC motors, and application-specific drive system solutions to meet diverse customer needs (http://www.abb.com/motors&drives).
ABB (www.abb.com) is a leader in power and automation technologies that enable utility and industry customers to improve performance while lowering environmental impacts. The ABB Group of companies operates in more than 100 countries and employs about 146,000 people worldwide. The company's U.S. operations employ more than 14,000 people in manufacturing and other facilities in 40 states.
ABB ALC 600 Information:
Troy Miller troy.miller@us.abb.com 262-785-3352 phone 262-785-8501 fax