Control System offers ruggedized modular, scalable design.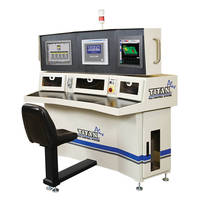 Control System offers ruggedized modular, scalable design.
June 30, 2009 - TITAN® Plus provides control, diagnostic, and trending capabilities, enabling operators to run complex sheet extrusion systems. It is designed in ergonomic console with triple touchscreen capable panel that swivels 180° and features color printer access,storage cubbies, and USB and AC ports and plugs. System can email, page, or text administrators if machine goes down or needs maintenance. Voice annunciation feature announces cause for alarms in 1 of 4 languages.

(Archive News Story - Products mentioned in this Archive News Story may or may not be available from the manufacturer.)
Original Press release

PTi - Processing Technologies International, LLC.
2655 White Oak Circle
Aurora, IL, 60502
USA



TITAN® Plus Makes Its First Appearance at NPE2009 - The Most Advanced Control System in the Industry


Aurora, IL, May, 20, 2009 - PTi is also making control news at NPE2009 by showing the TITAN® Plus, a greatly expanded unit from its TITAN® controller. Both TITAN® and TITAN® Plus are based on the rugged and dependable Allen-Bradley ControlLogix software platform and the PanelView operator interface. The new TITAN® Plus represents PTi's next generation of reliable, modular and scalable control systems designed to provide operators with full line control, diagnostic and trending capabilities.

The TITAN® system enables operators to consistently run complex sheet extrusion systems across a wide range of operator skill sets that are common in today's production facilities. TITAN® control systems include full machine control functions such as start/stop functions, drives, temperature loops, machine status display, alarm/faults status, recipe creation, data logging, trending and print screen functions. The system is housed in a newly designed ergonomic console with unique features such as a triple touch-screen capable panel that swivels 180° printer access and storage cubbies; durable work surface; USB and AC ports/plugs; alarm light bar; and optional integral seat.

TITAN® Plus comes with three control screens at the operator station. Beefed-up computing power gives the TITAN® Plus expanded data logging with additional capacity for storing and displaying historical and real time production information. The operator also can view operations manuals and machine drawings on the screen. A color printer is included with the unit.

Using a two or three screen console that swivels 180° the operator can more easily make changes on the machine, according to David Dorosa, Electrical Engineering Manager. One example is adjusting the gap on the chill rolls. Utilizing VIDEOGAP(TM) technology, a live video feed from cameras on the machine can roll on one screen, while the operator can make gauging adjustments and see the results on the other screens.

The TITAN® Plus system can email, page, or text key people if the machine goes down or is running out of specification, as defined by production management.

TITAN® Plus has another enhanced machine to man communication function: Voice Annunciation. Alarms often sound and can mean any variety of conditions from a minor error to a significant situation that needs immediate attention. The credibility of an alarm can be an issue if a line is experiencing a rather minor recurring (nuisance) problem that is in the process of being addressed. TITAN®'s voice annunciation will TELL you what triggered the alarm condition. Minor verses urgent alarms are easy to identify. PTi offers the voice system in English, Spanish, Russian and Chinese.

At PTi Headquarters, a TITAN® Plus system demonstration allows for complete simulations of line control and operations. Line start ups, shut downs and other functions can be practiced and learned in a no-risk environment. Tom Limbrunner, Vice President of PTi Engineering, says "This training tool has proven invaluable to our customers. Knowing and understanding the TITAN® control system before the machine is installed results in a much shorter learning curve."

TITAN® PLUS

PTi's highly featured TITAN® Plus control system offers all of the features of the TITAN®, and adds advanced capabilities.

Features:

Two Panelview-Plus(TM) Color Touch Screen Interfaces

Allen Bradley ControlLogix(TM) PLC Platform

AUTORAMP(TM) "One-button Startup Coordination" Advanced capabilities for ease of line start-up; slow down (crawl)

and complete shut down functions

Temperature and Pressure PID Control

Recipe Storage (up to 50 recipes) - set recipe values or download pre-set recipes for convenient repeatability

Alarm/Fault Status (10,000 events)

Trending (100 tags/minute/48hours)

Security/Print Screen/Remote Internet Support/Color Printer

Flash card storage device

Rugged Windows(TM) Based Industrial Computer

State-of-the-Art Processor

High Capacity Hard Drive-DVD/CD-RW

WonderWare(TM) Run-Time License

Color Touch Screen Interface

Comprehensive Data Logging and Trend Analyses

Custom Report Capabilities - Color Printer

Advanced features including voice annunciation, VIDEOGAP(TM) and paging

Advanced Trending screen for viewing real-time trends of process conditions

VIDEOGAP(TM) allows for remote viewing of sheet at the nip point

For more information on TITAN® and TITAN® PLUS, contact John Chalmers, VP of Sales & Marketing at PTi, jchalmers@ptiextruders.com or visit www.ptiextruders.com

Headquartered in Aurora, IL, Processing Technologies, LLC (PTi) manufactures a wide range of single screw extrusion systems for applications that include Sheet, Film, Foam, Compounding, Pipe & Profile and Reclaim Systems. PTi's machinery is marketed under the brands of TRIDENT® extrusion systems; REVOLUTION® roll stands; GLOBALINE® world standard sheet lines; and TITAN® and TITAN® Plus Integrated PLC Computer Control Systems. Systems are configured for each application based on specific customer requirements and designed with today's most advanced technology.

---