Product News: Test & Measuring Instruments
Conformal Coating Inspection System operates at 100 cm2/sec.
Press Release Summary: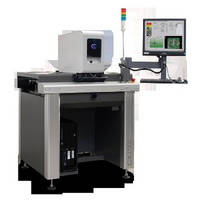 July 31, 2014 - Designed with 80 megapixel sensor and UV Strobed Inspection Module, Model CX150i™ offers white light illumination for component presence/absence inspection and UV illumination for conformal coating inspection. System is powered by AI2 Autonomous Image Interpretation technology, enabling smart programming, while delivering precise verification of coating applications and eliminating visual inspection errors.
Original Press Release
Find Out How CyberOptics' CX150i Automates Conformal Coating Inspection at NEPCON South China
Press release date: July 28, 2014
CyberOptics Corporation (Nasdaq: CYBE) will debut its newest CX150i™ Conformal Coating Inspection System in the Kasion Automation Limited booth (A-1J45) at NEPCON South China, scheduled to take place August 26-28, 2014, at the Shenzhen Convention & Exhibition Center in China. The multi-award winning SE600™ 3D SPI system also will be displayed at the show. All CyberOptics' inspection solutions come with the assurance of quality, accuracy and speed.

CX150i™ automates inline conformal coating inspection process using a brand-new UV Strobed Inspection Module (SIM). Based on proven AOI technology, CX150i™ gives you the assurance of quality, consistency and speed (100cm2/sec). Designed with an 80 Megapixel sensor, CX150i™ offers white light illumination for component presence/absence inspection and UV illumination for conformal coating inspection. Powered by AI2 (Autonomous Image Interpretation) technology, CX150i™ enables faster, simpler and smarter programming. Automated conformal coating inspection delivers precise verification of conformal coating application, reduces operator costs and eliminates visual inspection errors.

The SE600™ 3D SPI system delivers 'true' volume measurement and world-class usability. Designed with a state-of-the-art dual illumination sensor, it offers the best repeatability and reproducibility – even on the smallest paste deposits. The award-winning SPIv5 series software offers full touch screen capability and world-class user experience for easy, flawless inspection. CyberPrint OPTIMIZER™, a unique value-add program, that automatically optimizes the printing process is part of the SE600™ software portfolio.

About CyberOptics Corporation
Founded in 1984, CyberOptics Corporation is a leading provider of sensors and inspection systems that provide process yield and throughput improvement solutions for the global electronics assembly and semiconductor capital equipment markets. The Company's products are deployed on production lines that manufacture surface mount technology circuit boards and semiconductor process equipment. Through internal development and acquisitions, CyberOptics is strategically repositioning itself to become a global leader in high-precision 3D sensors. Headquartered in Minneapolis, Minnesota, CyberOptics conducts worldwide operations through facilities in North America, Asia and Europe.

For more information, visit the Company's website at www.cyberoptics.com.

Contact:
Shen Hwang Ting
CyberOptics Corp
+65 6744 3021
E-mail: info@cyberoptics.com  
Website: www.cyberoptics.com