Product News: Food Processing & Preparation, Test & Measuring Instruments, Chemical Processing & Waste Management
Conditioning System accelerates oxygen permeation testing.
Press Release Summary: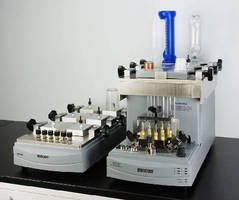 October 19, 2012 - Developed for use with OX-TRAN® Model 2/61 Oxygen Permeation Test System, RACK-6™ offers separate 6-cell conditioning unit which enables flexible or rigid packages to be brought to equilibrium offline before moving them to OX-TRAN Model 2/61 for final test results. Container Transfer Units allow individual package transfer from conditioning unit to testing unit. Supplied with 12 CTUs, RACK-6 system allows for 6 samples to be conditioned while 6 samples are tested on OX-TRAN Model 2/61.
Original Press Release
Mocon Increases Oxygen Permeation Testing Throughput For Packages with New Rack-6 Conditioning System
Press release date: October 17, 2012
Minneapolis, Minn. – MOCON, Inc. (NASDAQ: MOCO), the world's leading manufacturer of permeation instrumentation, now is offering the ability to increase throughput of oxygen testing for rigid packages. A new RACK-6™ conditioning system has been developed for use with MOCON's popular OX-TRAN® Model 2/61.

The OX-TRAN Model 2/61 measures oxygen transmission rates for as many as six rigid or flexible packages simultaneously. When testing barriers, test time can be lengthy, sometimes taking days to complete testing of all samples to equilibrium.

The new RACK-6 offers users a separate six-cell conditioning unit which enables packages to be brought to equilibrium offline before moving them to the OX-TRAN Model 2/61 for final test results.  Depending on the number of RACK-6 systems deployed, cost effective throughput of samples can be virtually unlimited. 

The RACK-6 uses Container Transfer Units (CTU), which allow individual package transfer from the conditioning unit to the testing unit.  Each RACK-6 hosts six CTUs.  Twelve CTUs come with the RACK-6 system allowing for six samples to be conditioned while six samples   are tested on the OX-TRAN Model 2/61. Companies can use multiple RACK-6 systems in tandem with the OX-TRAN 2/61 to further increase throughput.

The OX-TRAN Model 2/61 and RACK-6 are both engineered to work with a variety of flexible packages and rigid containers.  The RACK-6 system can be used with existing OX-TRAN Model 2/61 systems.

The OX-TRAN Model 2/61 incorporates the latest in high-sensitivity sensor design and is ideal for production and QC/QA testing applications. It includes precise relative humidity and temperature control, automatic equilibrium determination, advanced analysis tools and National Institute of Standards and Technology traceable system verification films.

About MOCON
MOCON is a leading provider of instrumentation and consulting and laboratory services to medical, pharmaceutical, food and other industries worldwide.  See www.mocon.com for more information.

Contact info:
Guy Wray    
MOCON, Inc.    
7500 Mendelssohn Ave. North 
Minneapolis, MN 55428 U.S.A. 
Phone: (763) 493-7228  
Fax: 763-493-6358   
Email: gwray@mocon.com