Compressed Fiber Gasket Material tolerates high temperatures.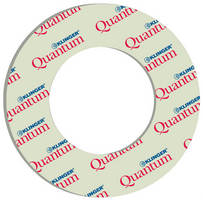 Compressed Fiber Gasket Material tolerates high temperatures.
October 11, 2010 - KLINGER Quantum fiber-reinforced gasket material includes hydrogenated nitrile butadiene rubber binder that enables gaskets to resist chemicals and retain flexibility at prolonged exposure to high temperatures. It enables gaskets to adapt to conditions caused from flange irregularities and misalignments and to absorb additional forces in gasket connection.

(Archive News Story - Products mentioned in this Archive News Story may or may not be available from the manufacturer.)
Original Press release

Thermoseal
2350 Campbell Rd.
Sidney, OH, 45365
USA



Thermoseal Inc. Introduces KLINGER® Quantum, a Second Generation Compressed Fiber Gasket Material


Sidney, OH - Thermoseal Inc., a leading manufacturer and supplier of fluid sealing
materials for a broad range of applications, has announced a new product to the market: KLINGER Quantum, the first fiber-reinforced gasket material that is exclusively HNBR-bound. KLINGER Quantum offers a level of flexibility at continuously high temperatures that is unknown in today's market. In addition to improved flexibility, this gasket material can be used with a much wider range of media than any other fiber reinforced gasket material that is currently available.

The HNBR (hydrogenated nitrile butadiene rubber) binder provides Quantum gaskets with exceptional temperature and chemical resistance so Quantum gaskets perform even after prolonged use at higher temperatures while other gaskets become brittle reducing the gasket's ability to adapt to changing temperatures and pressures. Quantum gaskets adapt to conditions caused from flange irregularities and misalignments and absorb additional forces in the gasket connection. Quantum gaskets ensure a safe connection, and the extended service periods save time and money.

KLINGER Quantum gaskets are already successfully sealing an array of applications in Europe's chemical, petrochemical, enengy, and food industries, and now this revolutionary gasket material is available from Thermoseal's centrally located factory in Sidney, Ohio for applications in the United States and Canada. For detailed information about KLINGER Quantum gasket material, call 800-990-7325 or visit the
company's website at www.thermosealinc.com.

Thermoseal Inc. is part of the group of independent Klinger companies, a leading supplier of industrial sealing and fluid control products worldwide. With over 30 operating companies throughout the world, Klinger manufactures, sells, and provides services to virtually all industries where fluids or gases have to be safely contained in pipelines and vessels such as petrochemical and chemical, paper, energy, mining,
steel, water, and food.

---
See related product stories


Start Your

Free


Subscription to


Industry Market Trends

.