CompactPCI Computer fits on one 6U board.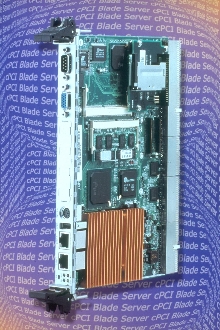 CompactPCI Computer fits on one 6U board.
March 14, 2002 - High-density cPCI-6760D is a hot swappable, fan-less, single slot plug-in card with Intel Pentium(R) III CPU up to 850MHz and dual bridging support. When combined with user software it can be used as network device, control up to 14 peripheral or bus-master PCI devices, or be part of multiprocessing system with up to 21 blade servers. Each card can be removed, inserted or hot swapped without interrupting other blade servers running on same backplane.

(Archive News Story - Products mentioned in this Archive News Story may or may not be available from the manufacturer.)
Original Press release

ADLINK Technology Inc.
8900 Research Drive
Irvine, CA, 92618
USA



All-In-One 6U cPCI Card Is Multi-Tasked Blade Server, Network Device Or Multi I/O Controller In A Powerful Low Energy Use Computing System


Irvine, CA (March 4, 2002) - ADLINK Technology Inc., a leading supplier of open-platform PC and CompactPCI based measurement, automation and CTI equipment, today introduced the cPCI-6760D, an all-in-one, high-density 6U height CompactPCI (cPCI) computer board. The new computer system is a hot swappable, fan-less, low-power consumption, single slot plug-in card with an Intel Pentium(R) III CPU (up to 850MHz) and dual bridging support that fits applications demanding maximum I/O expandability.

The new CPU cards enable streamlined management of systems and subsystems within a rack system by providing the ability to manage complex networks for Telco, xSPs, computer telephony and telecommunications companies in a single, densely compact rack mount unit. Each cPCI-6760D offers varied configurations to make energy efficient, hot swappable, and highly available systems through special power supply control circuitry.

Individually or working in tandem, the cPCI-6760D performs functions of servers, a network equipment such as soft-switches for high-count input/output (I/O) device management, or automation for space limited applications and is targeted to meet the needs of network and high density blade server applications, military, manufacturing and plant floor automation, VoIP, and multiple I/O control.

Because of its compact, fan-less design, on-card hard disk and ruggedized cPCI footprint, the new all-in-one system on a board can be used as a server or a multiple device controller where space limitations are demanded. That combined with dual bridge support allows the cPCI-6760D to act as a standalone system or part of a multiprocessing blade server system of up to 21 blade servers. Each cPCI-6760D can even be removed, inserted or hot swapped without interrupting the other 20 blade servers running on the same backplane.

These computer boards are equipped with either a BGA2 Pentium III or Celeron processor with up to 850MHz on a 100MHz Front Side Bus (FSB), have on-die L2 cache up to 256KB (CPU dependent) at maximum core speeds, additional RAM up to 512MB using dual 144-pin SO-DIMM sockets, and a built-in 2.5" ATA HDD or removable CompactFlash socket daughter board.

Combined with user configuration of software to deploy as a network device such as intelligent switching and the dual bridging support, the cPCI-6760D can also control up to 14 peripheral devices for multiple 110 control or add connectivity to switches for multiple ports. The systems can also support up to 14 bus-master PCI devices on CompactPCI bus peripheral slots.

The cPCI-6760D is compliant with PICMG 2.0, 2.1, and 2.7 for cPCI hot swapping and dual system bus and supports a wide range of ports. The cPCI-6760D conveniently provides on the front panel or via a real I/O transition module (J4 and J5 connectors) dual Ethernet/Fast Ethernet 10/100Base-T ports, two USB ports, and two serial ports with EPP/ECP, one parallel port, an LSI 53C1000R Ultra-160 SCSI controller, and a remote console that allows system maintenance via an RS-232 port. For video and display resolution, each system has a built-in 440BX AGP chip set SMI SM721 VGA with 4MB VRAM for 1280 x 1024 x 24bpp high resolution.

Operating systems include MS Windows 95/98/ME, Windows NT 4.0, Windows 2000, Red Hat Linux 7.0, VxWorks and MS-DOS 6.2+.

Price and Availability
Each cPCI-6760D CompactPCI CPU module uses standard open CompactPCI architecture and can be configured differently and operate as an entire unit while providing flexibility to meet demanding spontaneous and unforeseen needs. These new easy plug-in, all-in-one computer systems are now available individually or as complete rack mount/tower systems, or can be ordered in large quantities. Priced at $2,295 in quantities of 10 (includes PIII 700 CPU), the cPCI-6760D is available from stock with aggressive OEM volume discounts. All ADLINK Technology SBC's and cPCI systems come with a 2-year warranty and 30-days money back guarantee.

Delivery is from stock. Specifications are available at: http://www.adlinktechnology.com/products/CompactPCVcPCI-6760D.htm.

About ADLINK Technology
ADLINK Technology is a leading manufacturer of cutting edge, high-performance, high-quality PC based add-on cards for tests, measurement, automation and process control industries. ADLINK is also quickly emerging as a leader in industrial computing products, with innovative Passive Backplane and CompactPCI platforms. ADLINK products are marketed globally through direct sales offices for OEM/ODM customers and an extensive network of distributors, system integrators and value added re-sellers.

A new millennium company based in Taipei, the company has over 50% of its employees in research and development in the following product groups:

*Automation: Motion controllers in PCIVCPCI form factors and open I/O systems technology for high speed real-time control applications.

*Test And Measurement: NuDAQ Series of ISA/PCI/cPCI Bus add-on Data Acquisition and communication I/O cards, NuDAM series of remote Data Acquisition Modules and DAQBench 32-Bit Active X Controls for Visual Programming and control.

*Computer And Communication: CompactPCI and PXI computing platforms in both 3U and 6U form factors and NuPRO series of professional PICMG Single Board Computers in Half and Full size versions.




---