Product News: Test & Measuring Instruments, Sensors, Monitors & Transducers, Green & Clean
Compact Telemetry Datalogger suits hydrometric applications.
Press Release Summary: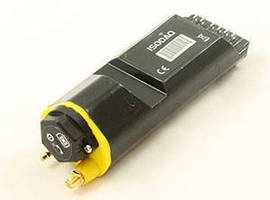 May 12, 2014 - Featuring GSM/GPRS modem for remote data capture, battery operated Tadpole D carries IP65 rating; connects to single-input digital, analog, and multi-parameter SDI-12 sensors; and is designed for standalone water and environmental monitoring in remote sites and hostile environmental conditions. This 49 mm dia x ~200 mm long device can transmit data at user-set intervals or upon alarm activation via GPRS to telemetry server, and users can record on up to 8 channels (single-input connection).
Original Press Release
CAS DataLoggers Offers Compact Environmental GSM/GPRS Logger
Press release date: May 8, 2014
Tadpole D Telemetry Data Logger from Isodaq

CHESTERLAND OH – CAS DataLoggers and Isodaq have partnered to offer the new Tadpole D GSM/GPRS Data Logger, a rugged IP65 telemetry device designed for standalone water and environmental monitoring in remote sites and in hostile environmental conditions. These battery operated dataloggers connect to a wide range of single-input digital, analog and multi-parameter SDI-12 sensors. Tadpole's revolutionary design and tiny footprint enables users to fit the device into tipping-bucket rain gauges or slots inside a 50mm diam. piezometer tube. By transmitting data at user-set intervals or on alarm activation via GPRS to a telemetry server, Tadpole data loggers automatically deliver data directly to your desktop, reducing the frequency and costs of site visits. These low-cost hydrometric solutions are now available from CAS DataLoggers.

The Tadpole's environmental and hydrometric applications include:
•Rainfall intensity monitoring and alarming
•Wind profiling and weather monitoring
•Water level in rivers, lakes and boreholes
•Water quality monitoring
•Flood and pollution warning

The Tadpole D is an ideal multi-purpose device for hydrometric applications, offering the flexible and rapid deployment needed for both short and long-term surveys. This modular system has special accessories including brackets and battery boxes designed so that the Tadpole can be fitted inside 50mm piezometer tubes, many popular automatic rain-gauges and small enclosures, dramatically lowering installation hassles and costs.

Isodaq's exciting new GPRS logger products significantly reduce the ownership costs of telemetry outstations at remote sites. The Tadpole D is an ultra-low power data logger with an onboard GSM/GPRS modem for remote data capture. Users can record on up to 8 channels (single-input connection) and the internal electronics are sealed to IP68 standard. The Tadpole can log Digital pulse/frequency (max 2 ch), Analog 4-20ma signals (16 bit A-D) or SDI-12 (max 8 ch). The Tadpole's small size--49mm diameter and approximately 200mm long—makes for convenient installation and increases its resilience against vandalism.

The Tadpole D stores values in its memory and has a SIM card holder enabling easy interchange for short-term surveys, with the SIM card accessible via removable cap.

The data logger features an end-to-end dial-out button to test communications during installation. A GSM signal survey kit is also available. Tadpole data loggers are ideal standalone solutions which operate on field replaceable battery packs. We also offer a range of lithium packs providing up to 7yrs life as well as an external 12V lead-acid option. Alarms can be configured with up to 4 set-points per channel including storm intensity and a hysteresis alarm function.

Harvest for Windows is the software package used with all Isodaq data loggers. Harvest is available in versions for both Windows (98, 2000, XP, Vista or 7) and Windows Mobile (3, 5 or 6). The software allows users to set up the logger, configure their recording rates & alarms, and graph data for all channels. Operators can also activate a control output on alarm, configure & test telemetry modems, export data to CSV or XML format files, and more.

For more information on our Isodaq data loggers for weather measurement, water quality surveys, and many other environmental applications, or to find the ideal solution for your application-specific needs, contact a CAS Data Logger Applications Specialist at (800) 956-4437 or visit the website at www.DataLoggerInc.com.

Contact Information:
CAS DataLoggers, Inc.
12628 Chillicothe Road
Chesterland, Ohio 44026
(440) 729-2570
(800) 956-4437
sales@dataloggerinc.com
www.dataloggerinc.com