Compact RGB LED suits multicolor indicator applications.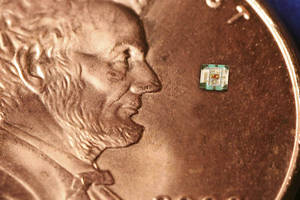 Compact RGB LED suits multicolor indicator applications.
January 13, 2011 - QuasarBrite 0404 RGB LED, model SML-LX0404SIUPGUSB, features 1.0 x 1.00 x 0.25 mm package and is suited for use in communications equipment, electronics, portable medical device, and backlighting applications. Operating over temperature range of -40 to +85°C, it performs at current outputs of 30/25/10 mA respectively for red, green, and blue. Surface-mounted, RoHS-compliant unit also provides 120° viewing angle.

(Archive News Story - Products mentioned in this Archive News Story may or may not be available from the manufacturer.)
Original Press release

Lumex Inc.
425 North Gary Avenue
Carol Stream, IL, 60188
USA



New Lumex Quasarbrite 0404 RGB LED


RGB LED technology also provides cost and energy savings for multicolor LED indicator applications

PALATINE, IL - Lumex announces the global launch of the surface mounted QuasarBrite 0404 RGB LED. The QuasarBrite 0404 RGB LED's compact 1.0mm x 1.00mm x 0.25mm package size is the smallest RGB LED package available today and is ideally suited for multicolor LED indicator applications in restricted spaces. The optimized, fully-automated production process used to produce the QuasarBrite 0404 RGB LED also generates up to 25% cost savings compared to alternative 0404 RGB LED technologies.

The QuasarBrite 0404 RGB LED combines excellent visual performance, low energy requirements and compact size making the technology ideally suited for multicolor LED indicator applications including:

o Communications equipment (servers, networks, gateways, headsets, phone equipment, handheld communication devices);

o Personal electronics (cell phone indicators, backlights for display screens and keypads);

o Portable medical device (pulse oximeters, defribulators, glucometers);

o Backlighting (backlighting for LCDs, switches, decorative lighting).

"As technologies become more advanced, full color indicator lights play a key role in communicating a wide range of different status messages to users," explained Kay Fernandez, Product Technology Manager at Lumex. "With market-leading compact size and efficient production processes - the QuasarBrite 0404 RGB LED allows brands to cost effectively and space efficiently integrate full color RGB indicator lights into their products."

The QuasarBrite 0404 RGB LED provides excellent visual performance with bright colors and a 120° viewing angle. Low energy consumption simplifies heat dissipation as the QuasarBrite RGB LED provides reliable performance at low current outputs (30/25/10 mA respectively for R/G/B).

The QuasarBrite 0404 RGB LED also provides several opportunities for cost and real estate savings. The use of a single 0404 can result in up to a 30% cost savings as well as a 70% real estate savings compared to the use of individual red, green and blue packages. Replacing three parts with a single part number also simplifies ordering and maintenance processes.

The RoHS compliant QuasarBrite 0404 RGB LEDs (part number SML-LX0404SIUPGUSB) have an operating temperature range from -40°C to 85°C. Samples of these devices are available from stock, with production quantities in 10-12 weeks. Pricing is dependent on quantity ordered, and ranges from $0.25 to $0.50 per unit in production quantities.

Lumex Contact Information

For additional information or engineering assistance:

In the Americas and Europe, contact Lumex's Sales Department, 290 E. Helen Rd., Palatine, IL 60067 USA. Phone: 1-800-278-5666. FAX: 1-847-359-8904. E-mail: lmxsales@lumex.com Web: www.lumex.com.

In Asia, contact Lumex's Asian Pacific Headquarters at 3F, No. 972, Sec. 4, Chung Hsing Rd., Chu Dung, Hsin Chu County, Taiwan, ROC. Phone: +886-3-582-1124. FAX: +886-3-582-1154. Web (in Chinese): www.lumex.com.tw

About Lumex

For 30 years Lumex has been a global leader in the optoelectronics industry, with the broadest range of high efficiency, high performance LEDs and LCDs in the industry. With thousands of standard products and a focus on semi-custom and custom designs, Lumex is a valuable resource for quality and innovation. Lumex's optical range encompasses a wide spectrum including UV, visible and infrared wavelengths. Lumex's team of Technical Design Specialists are experts in collaboratively developing effective, smart solutions from the most complex design dilemmas.

Lumex has a global footprint with the worldwide headquarters outside Chicago and the Asian headquarters in Taiwan. With manufacturing capabilities in the United States, China, Taiwan and Thailand, Lumex is able to support over 23 end markets with more than 80,000 customers both directly and through our distribution channel partners. Over the last 30 years, the name Lumex has become synonymous with quality and performance around the world.

About ITW Photonics Group

The ITW Photonics Group was created to bring together and build on the technical expertise of individual companies that specialize in photonics technology and span the full spectrum of wavelengths. The group consists of:


Lumex - LED and LCD technology


Cal Sensors - IR Detector and Emitter technology


Opto Diode Corp - LED, Silicon Photodiodes and Electro-Optical Assembly technology

The synergy of these three industry front-runners provides an unsurpassed range of photonic capabilities within a broad spectrum of markets, including medical, military and industrial controls. The ITW Photonics Group provides integrated solutions that encompass the technology and experience from all three business units, offering design engineers higher performance with greater feature enhancements.

---