Product News: Electrical Equipment & Systems, Electronic Components & Devices
Compact Planar Transformer delivers up to 800 W of power.
Press Release Summary: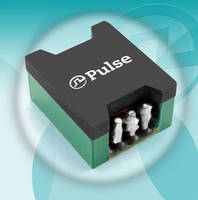 May 22, 2014 - Built on ER25+ platform, 33.5 x 26.8 x 18.3 mm PH9278NL is used for isolation and voltage conversion for SMPSs in datacom and intermediate bus converter applications. Optimized effective cross-sectional area of core minimizes losses for given number of winding turns, and copper losses can be reduced by removing some winding turns. Flat coil windings help lower direct current resistance, and core design allows for compact inter-connection and termination of winding elements.
Original Press Release
Pulse Electronics' Optimized Planar Transformer ER25+ Platform Delivers up to 800W Power Capability in Small Footprint
Press release date: May 14, 2014
Increases throughput power 50%

San Diego, Calif. -- Pulse Electronics Corporation (NYSE: PULS), a leading provider of electronic components, launches a new planar platform which increases throughput power for Pulse's planar SMT transformers by 50% over transformers of comparable size to deliver up to 800 watts of power capability. These transformers are used for isolation and voltage conversion for switched mode power supplies in datacom and intermediate bus converter applications.

Pulse Electronic's PH9278NL planar transformer is built on Pulse's new ER25+ platform and can be customized depending on the application. The platform measures 33.5 x 26.8 x 18.3mm and delivers 50% greater power than transformers built on an ER28 platform which measures 35.5 x 30.5 x 12.6mm. The increased power is achieved by increasing the effective cross-sectional area of the core by 40%. This results in lower core losses for a given number of winding turns. Additionally, copper losses can be reduced by removing some winding turns. The cost-effective flat coil windings have 50% lower direct current resistance compared to multilayer PCB technology and the core design allows for a compact inter-connection and termination of the winding elements.

"Traditional planar core transformers have a non-uniform flux distribution, resulting in areas of high flux density that require additional winding turns to avoid excessive heating," explained Gerard Healy, field application engineer, Pulse Electronics Power Division. "Pulse has used modern finite element analysis techniques to analyze and optimize the core design to balance the flux distribution and increase the effective cross-sectional area without increasing the core size. This new platform enables us to increase the power capability of Pulse's planar transformer portfolio and offers a significant advantage compared to using existing traditional cores."

Pulse's planar transformers are RoHS compliant and meet standard EIA481 requirements. They are available in tape-and-reel packaging. Lead time is eight weeks. The price ranges from $3.75 to $4.95 for quantities up to 50,000 pieces. Pricing varies according to order configuration and destination. Further details are available on the data sheet located at http://productfinder.pulseeng.com/products/datasheets/P729.pdf, or contact pulse at ghealy@pulseelectronics.com or www.pulseelectronics.com.

For more information on planar transformers, Gerard Healy will be presenting a paper on this topic at the PCIM Europe Conference in Nuremberg, Germany. Design of a High Efficiency Planar Transformer with Deep Interleave Flat Coil Windings for >250W Converter Topologies will be presented at the Converters poster session on Wednesday, May 21, 2014 at 3:30 PM.

The white paper Flat Coil Planar Transformers is available at http://www.pulseelectronics.com/download/3901/g049/pdf.

About Pulse Electronics:
Pulse Electronics is the electronic components partner that helps customers build the next great product by providing the needed technical solutions. Pulse Electronics has a long operating history of innovation in magnetics, antennas, and connectors, as well as the ability to ramp quickly into high-quality, high-volume production. The Company serves the wireless and wireline communications, power management, military/aerospace, and automotive industries. Pulse Electronics is a participating member of the IEEE, SFF, OIF, HDBaseT Alliance, CommNexus, NFC Forum, MoCA, and IWPC. Visit the Pulse Electronics website at www.pulseelectronics.com.

Copyright ©2014 Pulse Electronics Corporation. All rights reserved. All brand names and trademarks are properties of their respective holders.

Pulse Electronics
Gerard Healy
Field Applications Engineer
Pulse Electronics Power Division
Pulse Electronics Europe
E-mail: ghealy@pulseelectronics.com
Tel: +353 93 70377

A R Marketing Inc. (agency)
Andrea Roberts
Tel: +1 858-204-9584 mobile
Email: andrea@armarketinginc.com