Communication Software enhances manufacturing operations.
Press Release Summary: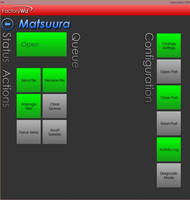 July 21, 2014 - Suited for manufacturing operations with multiple CNC machines, FactoryWiz DNC helps reduce operator training time via architecture designed around usability. Package offers full simultaneous communication capability to every machine, diverse network support, and remote-request capability from machine control panel. Along with file management and security features, platform-independent solution offers mobile device access, customizable notifications, and 3rd party editor support.

Original Press Release
Refresh Your Memory Introduces FactoryWiz DNC Communication Package at IMTS - The International Manufacturing Technology Show 2014
Press release date: July 15, 2014
San Jose, Cal – Refresh Your Memory, Inc., will introduce its new FactoryWiz DNC communication package at IMTS – The International Manufacturing Technology Show 2014 being held at Chicago's McCormick Place Sept. 8-13. Refresh Your Memory, Inc. can be found in the Controls & CAD-CAM Pavilion, Booth # E-3363, which is located in the Lakeside Center(East) Building .

FactoryWiz clears the way to significantly reduced operator training time with an original architecture designed around ease of use.  FactoryWiz DNC is ideal for manufacturing operations with multiple CNC machines.  Building upon past DNC innovations such as full simultaneous communication capability to every machine, comprehensive network support, and powerful remote-request capability from the machine control panel, FactoryWiz DNC brings a host of new capabilities as well.  The FactoryWiz DNC offers more powerful and varied Ethernet options which means FactoryWiz DNC can be used to transfer data to machines acting as FTP Clients, FTP Servers, or Microsoft SMB servers.  Lite "web client" stations can be deployed on the vast majority of operating systems with a web browser.  At the same time, mobile device access makes file requests easy and immediate using the smart phone in your pocket.  Platform independence facilitates data accessibility via any device with web access.  Improved file management and security features promote easier to implement protection features and track file revisions. Additionally, customizable notifications utilize your email system to keep you on top of program revisions, and 3rd party editor support allows you to make use of the G-Code editor you are already familiar with.  Also, the new FactoryWiz DNC system includes the same powerful API capabilities of FactoryWiz Monitoring.  Direct sharing of data reduces redundant installation costs and makes it easy to upgrade to a full machine event/monitoring system.

Refresh Your Memory, Inc. has been providing CNC communication solutions since 1983.  To try FactoryWiz DNC or learn about the powerful features of our FactoryWiz Monitoring system, visit our booth #E-3363 in the East Hall.

For more information, visit http://www.factorywiz.com.

Refresh Your Memory, Inc.
6613 San Anselmo Way
San Jose, CA 95119
Telephone: 408-224-9167
Fax: 408-224-9168
http://www.factorywiz.com  

Contact:
John Hosmon
President
Refresh Your Memory, Inc.
John.hosmon@factorywiz.com
408-225-0542