Product News: Machinery & Machining Tools, Construction Equipment & Supplies
Cold Milling Machines feature rear rotor design.
Press Release Summary: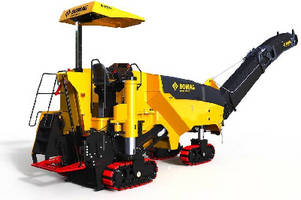 December 26, 2013 - Designed to extend cutting tool life, BM-35 Series features BMS 15 interchangeable holder system, which utilizes single bolt for holder retention and requires low tightening torque of 75 lb-ft. Low front face position maximizes efficiency while allowing full tooth rotation. In addition, machines incorporate logical operating layout, intuitive controls, and low noise levels. Vibration isolated operator's stand features comfortable swivel seat design which allows all work to be done while seated.
Original Press Release
BOMAG's New Cold Milling Machines
Press release date: December 17, 2013
BOMAG expands its cold milling product range by offering the new rear rotor design BM -35 Series.  Advances in operator comfort and precision controls set the standard for these rear rotor mills, and an innovative exclusive cutter system delivers first rate milling performance.

This is the second generation of BOMAG's inventive breakthrough milling models. Its prior BM 500/600 series has quickly become a market success in the trimmer mill category by giving contractors unsurpassed comfort levels and exclusive quick change rotors. Now this next generation of commercial mills has arrived with 3 new models: The BM1000/35, BM1200/35, and BM1300/35.

BOMAG worked with experienced operators throughout the -35 design conception. A goal was set to eradicate time-wasting factors which disrupt the milling process and that ultimately cost contractors time and money. Highest priority was given to maximizing the cutting tool life, while minimizing tool replacement labor to support an efficient and productive jobsite. BOMAG developed its unique BMS 15 interchangeable holder system to accomplish these requirements. This new cutting system utilizes a single bolt for holder retention and requires a low tightening torque of 75 ft. lb. Additionally, the low front face position increases efficiency and therefore overall milling power, while allowing desirable full tooth rotation. A special tempered steel material offers a significantly longer service life versus conventional cutting systems and also provides BOMAG's traditional premium quality.

Operators also called for simplicity and ease of operation. The -35 models incorporate a logical operating layout, easy intuitive controls, and low noise levels. The vibration isolated operator's stand features a comfortable swivel seat design which allows all work to be done while seated. The control ergonomics are complemented by straightforward switches, levers and clear read-out displays.

Both the BM600/15 and BM1000/35 models will be on display at the 2014 CONEXPO show in Las Vegas. Stop in to visit with BOMAG's product specialists and application experts to learn more about these innovations and how they can add to your bottom line profitability.

BOMAG Americas, Inc., headquartered in Kewanee, IL, is a global manufacturing and marketing organization for road building and construction machines. The BOMAG product lines include: Cedarapids asphalt pavers and material transfer equipment, CMI & BOMAG reclaimer/stabilizers, Milling machines, Single drum and Tandem vibratory rollers, Pneumatic tired rollers, Landfill refuse compactors, and a full range of Light compaction equipment. For further information please contact BOMAG at 2000 Kentville Road, Kewanee, IL, 61443, call 309-853-3571, email info.bomag@bomag.com or visit www.bomag.com/us.