Product News: Computer Hardware & Peripherals, Electrical Equipment & Systems, Electronic Components & Devices
Coaxial Cable Assemblies suit in-building DAS applications.
Press Release Summary: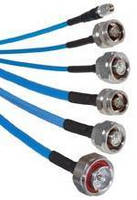 March 4, 2014 - Intended for Distributed Antenna Systems, Coaxial Cable Assemblies efficiently transfer RF signal, minimize interference caused by intermodulation, fit into tight spaces, and are plenum-rated to meet building fire codes. Times Microwave SPP-250-LLPL™ consists of small diameter corrugated cable, while TFT-402-LF is extremely flexible with low minimum bend radius. Available in standard and custom lengths, cables offer 7-16 DIN male, 4.1-9.5 DIN male, N male, and SMA male terminations.
Original Press Release
Plenum Rated, Low Loss, Low PIM, Flexible Coaxial Cable Assemblies for In-Building DAS Applications
Press release date: February 24, 2014
Distributed Antenna Systems (DAS) installations in buildings use large numbers of coaxial cable assemblies with special requirements. The assemblies need to efficiently transfer the RF signal (low loss), reduce the occurrence of interference caused by intermodulation (low PIM), fit into tight mechanical spaces (flexible) and meet building fire codes (plenum rated). Most coaxial cable assemblies meet some of these requirements, but fall short of meeting them all.

RF Industries offers coaxial cable assemblies with Times Microwave SPP-250-LLPL™ and TFT-402-LF plenum rated, low loss, low PIM, flexible cables that meet all these requirements for an in-building DAS coaxial assembly. The SPP-250-LLPL™ is a small diameter corrugated cable. The TFT-402-LF is an extremely flexible, low minimum bend radius cable. Both cables meet UL910 fire requirements and exhibit low loss and low PIM performance.

Cable assemblies are available in standard and custom lengths terminated with RF Industries brand or Times Microwave brand RF connectors. Connector terminations include 7-16 DIN male, 4.1-9.5 (Mini) DIN male, N male and SMA male. RF Industries applies high standards of manufacturing techniques and tooling with 100% final testing for electrical and PIM performance to assure every cable assembly meets the advertised specifications.

Available from RF Connectors Distributors throughout the US, Canada and Mexico.  For additional information contact us at 800-233-1728 or 858-549-6340, rfi@rfindustries.com or visit our web site at www.rfindustries.com.  RF Connectors is a division of RF Industries (NASDAQ RFIL), a leading supplier of connecting solutions provided through its operating divisions: RF Connectors, RF Cable Assembly, Aviel Electronics, OddCables.com and Cables Unlimited.