Product News: Material Handling & Storage, Packaging Equipment
Clear, Flexible Piston reduces bounce for consistent dispensing.
Press Release Summary: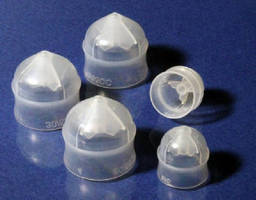 August 5, 2014 - Used to achieve consistent results when dispensing viscous fluids, Optimum® Clear Flex Piston is made from pliable material that allows inserted flexing under pressure. This creates tight seal between piston and barrel. Seal stops air from passing by piston and consequently prevents piston separation and pulsing (or bounce) during dispensing. Piston fits tightly enough into syringe barrel to maintain barrel wall wiping throughout dispensing cycle and thereby reduces fluid waste.
Original Press Release
Nordson EFD's New Optimum Clear Flex Piston Reduces Piston Bounce for More Consistent Dispensing Results
Press release date: July 31, 2014
Innovative flex material prevents air entrapment in pulse pressure dispensing to reduce product waste

East Providence, RI USA – Nordson EFD, a Nordson company (NASDAQ: NDSN), the world's leading precision fluid dispensing systems manufacturer, introduces its Optimum® Clear Flex Piston, a new dispensing solution to achieve more consistent results when dispensing viscous fluids. The Clear Flex Piston reduces bounce by creating a tighter seal between the piston and the fluid than other pistons in the market.

Nordson EFD's new piston is made from a pliable material that allows the inserted piston to flex under pressure, creating a tight seal between the piston and barrel. The seal stops air from passing by the piston, preventing piston separation and pulsing (or bounce) during dispensing. The piston fits tightly enough into the syringe barrel to maintain excellent barrel wall wiping throughout the dispensing cycle, reducing costly fluid waste. The clear flex material provides superior strength, exceptional clarity, and chemical compatibility with a wide variety of assembly fluids ranging from adhesive dispensing to lubrication systems. It is especially effective for highly viscous or filled materials where piston bounce is a known issue, such as greases, pastes, or solder paste.

"Entrapped air is the leading cause of piston bounce in air pulse pressure dispensing," said Brian Dodier, Nordson EFD global product line manager. "In piston bounce conditions, micro- bubbles and air pockets can surface between the piston and fluid. As this air builds, a lack of positive compression is created on the fluid. When this pressure releases, excessive material can be dispensed leading to inconsistent deposits. The Optimum Clear Flex Piston minimizes piston bounce by preventing air from becoming entrapped."

Nordson EFD's Optimum syringe barrels and cartridge systems set the standard for quality, consistency, and reliability within the fluid dispensing industry. Each Optimum dispensing component has been designed as part of a complete, integrated system that improves yields and reduces costs by producing the most accurate, repeatable results possible. All EFD Optimum dispensing components are produced silicone-free by Nordson EFD in the USA and are certified safe for industrial use. Current Optimum systems can easily be fitted with the clear flex piston.

For more information visit Nordson EFD on the web at www.nordsonefd.com, www.facebook.com/NordsonEFD, or www.linkedin.com/company/nordson-efd, email info@nordsonefd.com, or call +1 401.431.7000 or 800.556.3484. For Nordson EFD LLC sales and service in over 30 countries, contact Nordson EFD or go to www.nordsonefd.com.

About Nordson EFD

Nordson EFD designs and manufactures precision fluid dispensing systems for benchtop assembly processes and automated assembly lines. By enabling manufacturers to apply the same amount of adhesive, lubricant or other assembly fluid to every part, every time, EFD dispensing systems are helping companies in a wide variety of industries increase throughput, improve quality, and lower their production costs. Other fluid management capabilities include high-quality syringe barrels and cartridges for packaging one- and two-component materials, along with a wide variety of fittings, couplers and connectors for controlling fluid flow in medical, biopharmaceutical and industrial environments.The company is also a leading formulator of specialty solder pastes for dispensing and printing applications in the electronics industry.

About Nordson Corporation

Nordson engineers, manufactures and markets differentiated products and systems used for dispensing and processing adhesives, coatings, polymers, sealants and biomaterials; and for managing fluids, testing and inspecting for quality, treating surfaces and curing. These products are supported with extensive application expertise and direct global sales and service. We serve a wide variety of consumer non-durable, consumer durable and technology end markets including packaging, nonwovens, electronics, medical, appliances, energy, transportation, building and construction, and general product assembly and finishing. Founded in 1954 and headquartered in Westlake, Ohio, the company has operations and support offices in more than 30 countries. Visit Nordson on the web at www.nordson.com, www.twitter.com/Nordson_Corp or www.facebook.com/nordson.

Nordson EFD, LLC
Steve Neves
Marketing Specialist
(401) 431-7032
steven.neves@nordsonefd.com

Headquarters
40 Catamore Boulevard
East Providence, RI USA

AR Marketing, Inc. (agency)
Andrea Roberts
+1 858-451-8666
andrea@armarketinginc.com

USA & Canada:
800-556-3484
+1-401-431-7000
info@nordsonefd.com