Product News: Material Handling & Storage, Fluid & Gas Flow Equipment
Clamps feature EPDM extrusion cushioning.
Press Release Summary: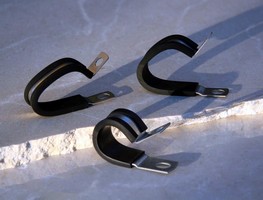 March 2, 2006 - Cushion clamps series COL and CDL are available in hot-dipped galvanized steel, chemically treated G-90, or Type 304 annealed SS. Units are designed to secure and route wire, cable, tubing, and hoses. COL series offers contoured configuration clamping diameter, offset lower leg, and can secure one tube. CDL series can secure multiple tubes. Clamps are suited for agricultural, automotive, marine, OPE, recreational vehicle, and industrial manufacturing applications.
KMC LaserForm Div. Of Kickhaefer Mfg. Co.
Original Press Release
Clamps Never Looked So Good - KMC Adds New Product Line
Press release date: February 14, 2006
PORT WASHINGTON, WIS. (Feb. 14, 2006) - Kickhaefer Manufacturing Company (KMC Stampings) announces the addition of two new extruded cushion clamp series, COL and CDL, to its already extensive line of clips and clamps. The new extruded cushion clamp products meet or exceed industry standards and compliment its popular vinyl coated clip and clamp standard products.
Designed to secure and route wire, cable, rigid or flexible tubing and hoses, KMC's extruded cushion clamp series is available in hot-dipped galvanized steel, chemically treated G-90 or, for additional corrosion protection, Type 304 annealed stainless steel. The clamping diameter is cushioned with a high-quality EPDM extrusion formulated to meet or exceed a variety of industry specifications. The COL series offers KMC's characteristic "contoured" configuration clamping diameter to facilitate effortless closing and assure proper hole alignment. Additionally, the lower leg of the clamp is offset to allow for a flush surface mount.
The COL series is designed to secure one tube while the CDL series secures multiple tubes. Customers can expect the same excellent service, superior quality and timely deliveries for new COL and CDL series clamps that they have come to expect from KMC parts. They are ideal for agricultural, automotive, marine, OPE, recreational vehicle and other industrial manufacturing applications. The EPDM cushion functions properly in a wide range of temperatures and resists oil, chemicals, weather and ozone particularly well, making the COL/CDL series clamp perfect for applications where protection and durability are required. The COL and CDL series clamp is also available with optional cushion materials including neoprene or silicone for high temperature applications.
Headquartered in Port Washington, Wis., Kickhaefer Manufacturing Company (KMC) has produced metal stampings since 1908. As a registered TS 16949 company, KMC offers an extensive line of standard and custom metal components in prototype and production quantities, provides extensive engineering and design services, and utilizes fourslide, multi-slide, conventional press and laser equipment in the production on metal components for a wide variety of markets, including automotive, heavy equipment, commercial, and distribution. For information, call (262) 377-5030 or visit kmcstampings.com.
CONTACTS: Skip Endicot KMC Stampings, Inc. 262-377-5030