Product News: Materials & Material Processing
Chromium Tool Steel offers alternative to 1.2085.
Press Release Summary: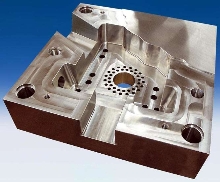 June 9, 2005 - Resistant to corrosion, steel grade 1.2099HASCO.M has homogenous structure and strength on delivery of ~1,080 N/mm². Steel maintains dimensional stability, even during rough machining; is thermally conductive; and has pre-hardened quality. Used for molds where abrasive materials or aggressive coolants are employed, product is offered as plate type P1100 and is suited for applications such as bolster plates, cavity plates, and extrusion tools.
HASCO Hasenclever GmbH + Co KG
Original Press Release
Innovative Chromium Tool Steel 1.2099HASCO.M, the Modern Alternative to the 1.2085
Press release date: May 1, 2005
HASCO has extended its range of steel grades with the new chromium tool steel 1.2099HASCO.M. This represents an advanced development of the well-known 1.2085.
This new developed steel grade is also resistant to corrosion thanks to the high alloy content of chromium and is used, like the 1.2085, for moulds where abrasive materials or aggressive coolants are employed.
Its special composition gives the new 1.2099HASCO.M significantly improved machining parameters in comparison to the conventional 1.2085. Significantly faster machining times can now be realised through longer tool life and increased machining volume. Whilst the traditional 1.2085 results in reduced tool life and comparably reduced machining volume.
Thanks to its relatively high strength on delivery of approx 1080N/mm² and its homogenous structure, the steel remains dimensionally stable, even at rough machining.
Features:
Rapid machinability, dimensional stability and reduced tool wear make the new HASCO steel extremely suitable for use in large moulds and rough machining.
Further advantages:
- Improved thermal conductivity. Thus enabling faster thermal dissipation and shorter injection cycles.
- In comparison to the 1.2085, improved welding performance and a reduced risk of fractures can be evidenced during machining.
- The pre-hardened quality renders an additional heat treatment unnecessary.
HASCO offers the steel quality 1.2099HASCO.M as plate type P1100 with short delivery. Special machining and other plate types available on request.
Application areas:
- Bolster plates
- Mould base assemblies
- Cavity plates
- Extrusion tools