Product News: Material Handling & Storage, Mechanical Components & Assemblies
Cast Steel Chain handles tough traction applications.
Press Release Summary: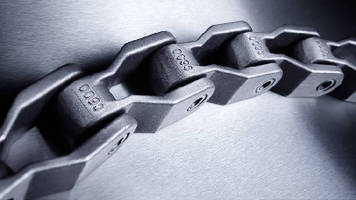 July 10, 2014 - Available with 63.5 mm pitch and with or without TAB, C600 Cast Steel Chain is suitable for applications that involve pulling or conveying heavy loads, such as moving barrels, bulk containers, gas bottles, and cage pallets. Threaded pins in connecting link facilitate closing and unclosing of chain. For additional corrosion protection, galvanized, zinc-plated version is available.
Original Press Release
Cast Steel Chain C600 - For When the Going Gets Tough
Press release date: July 1, 2014
Indianapolis, USA, -- iwis drive systems is presenting the Flexon brand's new cast steel C600 chain. A characteristic feature of these cast steel chains is their simple yet robust cast steel design. They are especially suitable for applications that involve pulling or conveying heavy loads, for example in the timber or construction material industries, in pallet conveyor systems, or for moving barrels, bulk containers, gas bottles and cage pallets.

The cast steel chain C600 can be relied on to deal with the toughest traction applications and move the heaviest loads even in rugged conditions and over long distances. An increase of measured breaking loads by about 25 percent can be achieved by the use of cast steel rather than cast iron chains. As an alternative, there is also a galvanized, zinc plated version for additional corrosion protection. Threaded pins in the connecting link make the chain easy to close and unclose. The cast steel iron chain can also be supplied on request in a plastic version. Chains are available with a pitch of 63.5 mm and with or without TAB.

iwis supplies a wide range of products for all drive and conveyor engineering applications. The comprehensive portfolio of the Munich-based chain specialist includes precision high-performance roller chains, conveyor chains, maintenance-free and corrosion-resistant chains, accumulator chains, conveyor chains for special applications, leaf chains, flat top chains and modular belts for industrial applications, chains and accessories for agricultural machinery and timing chains for the automotive industry.

Trade shows:
Motek 2014, 6 to 9 October 2014, Stuttgart, Germany
PackExpo 2014, 2 to 5 November 2014, Chicago, USA

About iwis:
With headquarters in Munich, Germany, iwis is a leading supplier of precision chain systems for power transmission and product conveying applications. The iwis Group comprises three divisions:
-- iwis motorsysteme GmbH & Co KG, providing chains and engine timing drives for the automotive industry.
-- iwis antriebssysteme GmbH & Co KG, supplying a wide range of precision roller and conveyor chains for industrial applications, including machine and plant engineering, material handling systems, and the packaging, printing and food industries. 
-- iwis antriebssysteme GmbH specialising in roller, conveyor, special-purpose and flat top chains, modular belts, chains for agricultural machinery, sprockets and accessories.

Established in 1916, iwis is a family-run business which today employs more than 1000 people. In addition to production sites in Germany (Munich, Landsberg, Wilnsdorf and Sontra) and in the Czech Republic, in China and in the USA, iwis has subsidiaries in various countries in Europe and overseas, including Canada, England, France, Hong Kong, India, Italy, Korea, South Africa and Switzerland. Altogether, the iwis Group has 45 business locations throughout the world.

Contact in the USA:
iwis drive systems, LLC
Building 100
8266 Zionsville Road
Indianapolis, IN 46268, USA
Tel.: 317 821 3539
Fax: 317 821 3569
E-mail: sales@iwisusa.com
Internet: www.iwisusa.com

Contact in Canada:
iwis drive systems, LLC
Brian Walters, Canadian market manager
1-19349-94th Ave
Surrey BC
V4N 4E6, Canada
Tel.: 778 298 3622
Fax: 778 298 7219
E-mail: b.walters@iwisusa.com
Internet: www.iwisusa.com

Contact in Germany:
iwis antriebssysteme GmbH & Co KG
Albert-Roßhaupter-Str. 53
81369 Munich, Germany
Tel.: +49 89 76909 1500
Fax: +49 89 76909 1198
E-Mail: sales@iwis.com
Internet: www.iwis.com