Product News: Electrical Equipment & Systems, Sensors, Monitors & Transducers, Optics & Photonics
Carbon Dioxide Transmitter aids on-demand ventilation.
Press Release Summary: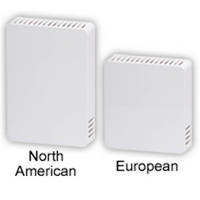 March 3, 2014 - To help prevent energy losses from over ventilation while also maintaining indoor air quality (IAQ), Series CDX CO2 sensor employs logic algorithm that eliminates need for manual calibration in applications where indoor CO2 level drops to outside levels during unoccupied periods. Sensing range is 0–2,000 PPM, accuracy is ±30 ppm or 3% of reading (whichever is higher), and stability is <2% FS over 15 years. Product uses non-dispersive infrared absorption and offers response time of 5 sec.
Original Press Release
NEW! Series CDX Carbon Dioxide Transmitter
Press release date: February 28, 2014
Dwyer Instruments, Inc., the preferred source for your complete range of practical and affordable instrumentation, is announcing the release of its NEW SERIES CDX CARBON DIOXIDE TRANSMITTER.

The Series CDX Carbon Dioxide Transmitter is a low cost and high performing CO2 sensor. On-Demand ventilation using CO2 sensors prevents energy losses from over ventilation while maintaining indoor air quality. The potential for the greatest energy saving occurs in areas where occupancy varies over the duration of the day. The Series CDX Transmitters utilize a proprietary logic algorithm to eliminate the need for manual calibration in applications where the indoor CO2 level drops to outside levels during unoccupied periods.

Complete details are available on our website @ http://www.dwyer-inst.com/Product/AirQuality/CarbonDioxideTransmitters/SeriesCDX/Ordering

Dwyer Instruments, Inc.
P.O. Box 373
Michigan City, IN 46361
Phone: (800) 872-9141 or (219) 879-8000
Fax: (219) 872-9057
Internet address: http://www.dwyer-inst.com/
E-mail: lit@dwyer-inst.com