Canister Vacuum Cleaner produces sound levels below 70 dB.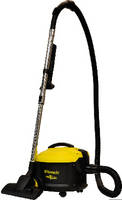 Canister Vacuum Cleaner produces sound levels below 70 dB.
April 17, 2012 - Equipped with 10 A motor, TV2 Canister Vacuum delivers 70 cfm and provides 2 gallon capacity. Unit incorporates multistage vacuum system with 3-layered fleece filter bag, permanent main filter, and motor protection filter, plus built-in HEPA exhaust filter for optimum recovery. Suited for noise sensitive environments, vacuum comes with 8 ft hose and wand as well as crevice and dusting tools.

(Archive News Story - Products mentioned in this Archive News Story may or may not be available from the manufacturer.)
Original Press release

Tornado® Industries, Inc.
333 Charles Court #109
West Chicago, IL, 60185
USA



Don't Let the Quiet Fool You


It's so quiet-less than 70 decibels-many people are surprised at just how powerful Tornado's TV2 Canister Vacuum cleaner really is.

The TV2's vacuums deliver 70 cfm of air flow, making it a workhorse to clean even the most soiled carpets.

It is the perfect option for Day Cleaning situations as well as for vacuuming in healthcare facilities, restaurants, and schools.

The TV2's eight-foot hose makes it easy to use, and the multistage vacuum system helps protect indoor air quality, the user's health, and the environment.

Visit us on Facebook at: http://tiny.cc/sq5ql

Available For Interviews And Industry Commentary:

Tornado Industries President Michael Schaffer is available for interviews and industry commentary by calling (630) 818-1300

About Tornado a Tacony Company

Tornado Industries has been engineering quality cleaning equipment for more than 80 years. The company has a long history of developing innovative products and applying the latest technology to increase productivity, reduce costs, and improve safety. Tornado prides itself on always being on the cutting edge of cleaning solutions.

Contact Information:

Jolynn Kennedy, marketing director

Tornado® Industries, Inc.

333 Charles Court #109

West Chicago, IL 60185

Phone: 800-Vacuums (800-822-8867); Fax: 630.818.1301

Chicago Phone: (630) 818-1300

e-mail: info@tornadovac.com

---


Start Your

Free


Subscription to


Industry Market Trends

.