Product News: Vision Systems
Camera has 1.4 Megapixel resolution and 30 fps output.
Press Release Summary: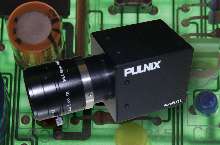 August 6, 2004 - Available in monochrome Model TM-1325 and color Model TMC-1325, miniature, progressive scan, CCD camera is based on 2/3 in. interline transfer sensor with 1392 x 1040 pixel resolution. Interline transfer CCD permits full vertical and horizontal resolution with electronic shutter speeds up to 1/16,000 sec. Incorporated look-up table allows full range control via externally selectable knee slopes and provides real-time 10- to 8-bit preprocessing.
Original Press Release
TM-1325 Camera Combines High Resolution and High Speed
Press release date: July 1, 2004
The TM-1325, newest in JAI PULNiX's line of AccuPiXEL series cameras, is a miniature high-resolution (1.4 Megapixels) monochrome progressive scan CCD camera. Based on a high-quality 2/3" interline transfer sensor with 1392 x 1040 pixel resolution, this camera can output 30 fps at full resolution and has increased NIR sensitivity, offering an excellent price/performance ratio.
The interline transfer CCD permits full vertical and horizontal resolution with electronic shutter speeds up to 1/16,000 sec. It can be reset asynchronously by external pulse control. Incorporating PULNiX's patented look-up table (LUT) allows full dynamic range control of the CCD by externally selectable knee slopes and provides real-time 10-bit to 8-bit pre-processing for effective image feature enhancement. The camera has both digital and analog outputs for interfacing with frame grabbers. All camera-control functions are externally controlled via a user-friendly graphical interface (GUI) provided by PULNiX or by direct serial command strings. It is available in both monochrome (TM-1325) and color (TMC-1325) formats, and can be ordered with either LVDS (RS-644) or Camera Link outputs.
Applications for the TM-1325 series include machine vision, microscopy and medical imaging, semiconductor and component inspection, intelligent transportation systems, gauging, and surveillance.
The TM-1325 series is available now. Volume pricing is available upon request.
JAI PULNiX, Inc. Corporate Information
JAI PULNiX, Inc. is a manufacturer of high quality, industrial-grade cameras for the machine vision, security, manufacturing, military, aerospace, medical and scientific markets. JAI PULNiX includes an ITS (intelligent transportation systems) division that develops and implements ITS solutions for government and private organizations.
JAI PULNiX provides the broadest camera offering of any industrial matrix camera manufacturer in the world. JAI PULNiX's product line features both CCD and CMOS technologies, spatial resolutions from VGA to multi-mega pixel, progressive scan and interlaced format, and sensitivity to light levels as low as .00001 lux. Our camera offerings include both monochrome and color, capture rates from real-time to over 1,000 fps, and a wide variety of physical interfaces including Camera Link(TM). We also offer many other crucial, cutting-edge capabilities.
JAI PULNiX is an ISO-9001 certified manufacturer and customer-driven organization well known for high quality, technical innovation, and miniaturization. JAI PULNiX follows a policy of Total Quality Management (TQM) that builds in quality at every step through continuous process improvement. "Quality" at JAI PULNiX means meeting and exceeding customer needs and expectations consistently and efficiently.
About the JAI Group
JAI was established in 1963 in Copenhagen, Denmark, and has subsidiaries in Japan, the US, and the UK. The JAI Group has annual sales of more than $40 million (USD) and employs 250 people worldwide. The JAI Group's mission is to develop and distribute user-friendly tools for the professional international world market by combining electronic eyes and electronic brains into a meaningful whole.
JAI has two primary businesses: JAI Camera Solutions and JAI Systems. JAI Camera Solutions is a component supplier that designs, manufactures and markets CCD and CMOS camera solutions primarily for the ITS, medical and industrial machines vision markets. Our cameras help improve our customers' businesses in a variety of ways, whether by improving quality and accuracy, lowering costs, increasing yields, or simply enabling better service. JAI Systems is one of the world's leading manufacturers of specialized traffic systems. Our solutions are based on JAI-developed hardware and software, which is often integrated with third-party products.
For more information please contact:
Ken Zinsli Director, Sales and Marketing
Steve Kinney Product Manager
JAI PULNiX 1330 Orleans Drive Sunnyvale, CA 94089 (800) 445-5444