Product News: Computer Hardware & Peripherals, Electrical Equipment & Systems
Cable Jumpers with Formable Coax suit low PIM applications.
Press Release Summary: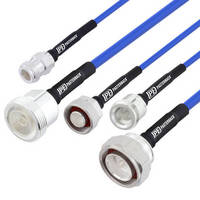 July 23, 2014 - Low PIM (-160 dBc) formable cables are made using tin-filled braid that produces hand-formable, solid outer conductor wall. Along with 0.163 and 0.276 in. coax diameters, these RF cables are available with several connector options: 7/16 DIN, 4.1/9.5 mini-DIN, Type N, and SMA. Connectors' TriMetal plating, soldered connection point, and coaxial cable construction produce low PIM performance for life of assembly. Low PIM jumpers operate from DC up to 6 GHz depending on configuration.
Original Press Release
Pasternack Introduces New Series of Low PIM Cable Jumpers
Press release date: July 21, 2014
Low PIM Cable Assemblies Utilizing a Formable Semi-Rigid Coax Debuted by Pasternack Enterprises

Irvine, CA — Pasternack Enterprises, Inc., an industry leading manufacturer and supplier of RF, microwave and millimeter wave products, introduces an all new series of low PIM cable jumpers with formable coax. These new assemblies are designed for low passive intermodulation (PIM) applications including use in black boxes, test equipment racks and cabinets, distributed antenna systems (DAS), and lab testing.

Pasternack's low PIM formable cables are made using a tin-filled braid that produces a hand formable, solid outer conductor wall, making them perfect for installation into tight places. These RF cables are available with two different coax diameters sizes including 0.163" and 0.276" and connector options include 7/16 DIN, 4.1/9.5 mini-DIN, Type N, and SMA. The robust connectors' TriMetal plating, soldered connection point and precise coaxial cable construction produce reliable low PIM performance for the life of the assembly.

The formable cable jumpers boast outstanding PIM performance of -160 dBc and 1.25:1 VSWR. Between-series configurations can be ordered with SMA, Type N, and 7/16 DIN connector combinations, while in-series cables using 4.1/9.5 Mini DIN connectors are also available. Pasternack's low PIM jumpers operate from DC up to 6 GHz depending on the desired configuration. These RF cable assemblies are available for same-day shipment in two popular lengths including 100 and 200 centimeters (cm). Custom lengths are available upon request with slightly longer lead times depending on the customer's specific needs. Each assembly is 100% RF and PIM tested prior to shipment.

"Our newest low PIM cable offering perfectly addresses the needs of the growing DAS market," explains Steve Ellis, Interconnect Product Manager at Pasternack. "These 100% RF and PIM tested, high performance cables offer OEMs and installers an easy-to-integrate, low PIM cable for use in tight spaces such as inside a box or equipment rack."

The new low PIM cable jumpers with formable coax from Pasternack are in-stock and available to ship now. Additional information can be found at http://www.pasternack.com/pages/Featured_Products/low-pim-cable-jumpers-with-formable-coax.htm. Pasternack can be contacted at +1-949-261-1920.

About Pasternack
A leader in RF technology since 1972, Pasternack is an ISO 9001:2008 certified manufacturer and supplier that offers the industry's largest selection of RF, microwave and millimeter wave products available for same-day shipping.

Press Contact:
Shaun Gameroz
Pasternack Enterprises, Inc.
17802 Fitch
Irvine, CA 92614
(949) 261-1920