Product News: Electrical Equipment & Systems
COT Synchronous Buck Converters reduce size of designs.
Press Release Summary: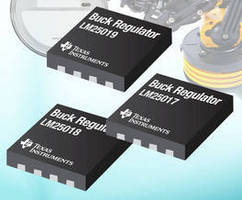 March 14, 2013 - Supplied in 8-pin LLP or PSOP, 650 mA LM25017, 300 mA LM25018, and 100 mA LM25019 Fly-Buck™ DC/DC converters feature constant on-time (COT) control architecture. These synchronous buck regulators with high- and low-side MOSFETs enable non-isolated voltage regulators and multi-output solutions from input voltages as high as 48 V. Suited for single- and multi-output power supplies, products simplify and accelerate high-voltage DC/DC designs in industrial and automotive systems.
Original Press Release
TI Introduces Industry's first 48-V Constant On-Time Synchronous Step-Down Converter for Automotive and Industrial Applications
Press release date: March 5, 2013
Fly-Buck(TM) DC/DC converters with integrated MOSFETs reduce size and cost of single- and multi-output designs

DALLAS -- Texas Instruments Incorporated (TI) (NASDAQ: TXN) today introduced three new 48-V synchronous buck regulators with integrated high-side and low-side MOSFETs for single- and multi-output power supplies. The 650-mA LM25017, 300-mA LM25018 and 100-mA LM25019 Fly-Buck(TM) converters feature constant on-time (COT) control architecture that reduces board space by up to 40 percent when compared with traditional designs that require multiple DC-DC converters. Used in conjunction with TI's award-winning WEBENCH® online design tool, the Fly-Buck converters simplify and speed high-voltage DC/DC designs in industrial and automotive systems. For more information, samples and evaluation modules, visit www.ti.com/lm25017-pr.

The LM25017, LM25018 and LM25019 enable non-isolated voltage regulators and multi-output solutions from input voltages as high as 48 V. Pin-compatible LLP and PSOP packaging offers a scalable solution that covers a wide range of power requirements. Each Fly-Buck converter can be configured to provide positive and negative voltage rails, or isolated multiple outputs with excellent cross-regulation.

The Fly-Buck converters are pin-to-pin compatible with TI's 100-V, 600-mA LM5017, 300-mA LM5018 and 100-mA LM5019 wide input voltage range regulator family. For designs that have a 3.3-V or 5-V input source and require an isolated voltage up to 2 W, TI offers the TPS55010 Fly-Buck converter with high efficiency and primary-side regulation. For more information on all of TI's high-voltage point-of-load products, visit www.ti.com/pol-pr.

Key features and benefits of the Fly-Buck converters

--  Fly-Buck converters simplify design of a variety of power supplies, including those with isolated multi-output, or positive and negative voltage rails.
--  COT control architecture provides excellent load transient response and eliminates loop compensation, lowering cost and simplifying design.
--  Integrated high-side and low-side N-Channel MOSFETs improve efficiency and eliminate external Schottky diode.

Availability, packaging and pricing
The new Fly-Buck converters are available in volume now from TI and its authorized distributors. Offered in thermally-enhanced 8-pin LLP and PSOP packages, the LM25017 is priced at US$1.25, the LM25018 is US$1.12 and the LM25018 is US$1.00 in 1,000-unit quantities. AECQ-100 qualified versions will be available in May 2013.

Find out more about TI's buck regulators:

--  Order samples and an evaluation module of the Fly-Buck converters:
--  www.ti.com/lm25017-pr
--  www.ti.com/lm25018-pr
--  www.ti.com/lm25019-pr
--  Download the application note, "Designing an Isolated Buck Converter": www.national.com/an/AN/AN-2292.pdf
--  Design a complete power management system online with TI's WEBENCH Power Designer: www.ti.com/webenchpwr-pr.
--  Get more information on all of TI's high-voltage point-of-load products: www.ti.com/pol-pr.
--  Ask questions and share knowledge in the power forum in the TI E2E(TM) Community: www.ti.com/powerforum-pr.
--  Download power reference designs from TI's PowerLab(TM) Reference Design Library: www.ti.com/powerlab-pr.

About Texas Instruments
Texas Instruments Incorporated (TI) is a global semiconductor design and manufacturing company that develops analog ICs and embedded processors.  By employing the world's brightest minds, TI creates innovations that shape the future of technology.  TI is helping more than 100,000 customers transform the future, today.  Learn more at www.ti.com.

Trademarks
WEBENCH is a registered trademark and Fly-Buck, TI E2E and PowerLab are trademarks of Texas Instruments.

CONTACT: Gayle Bullock, Texas Instruments, +1-408-721-2033, gayle.bullock@ti.com, Mary Dunnie, GolinHarris, +1-972-341-2576, mdunnie@golinharris.com