CNC Software identifies laser-profiled parts.
Press Release Summary: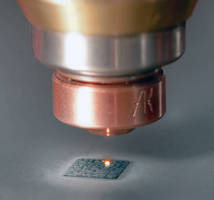 January 28, 2014 - Used to control laser profiling machines, BySoft 7 enables labelling of cut parts to ensure bending is carried out correctly. PartID function automatically laser-engraves cut parts with identification code that lowers risk of human error and eliminates mix-ups with similar parts. Also included, Plant Manager module plans and monitors laser and waterjet cutting processes; Parts Removal feature provides visual support (color coding, labelling) to operator when unloading parts at shuttle table.
Original Press Release
New Software Identifies Laser-Profiled Parts
Press release date: January 21, 2014
The latest version of Bystronic's CNC software controlling its laser profiling machines enables labelling of cut parts, ensuring that bending is carried out correctly afterwards. PartID is a new function within BySoft 7 that automatically laser-engraves cut parts with an identification code.

When the component is transferred to a Bystronic pressbrake, the code is scanned to ensure that the correct bending program is loaded. The risk of human error is lowered and mix-ups with similar parts eliminated, raising process reliability, saving time and reducing scrap.

PartID within Bysoft 7 is applicable to all of Bystronic's laser cutting machines, both CO2 and fibre. Subsequent processing machines must be fitted with ByVision Bending, the Swiss manufacturer's graphical user interface for pressbrakes, and an additional scanning unit. For customers with and without Bystronic bending machines, the code can be useful to recognise the part by scanning with a smart phone or similar device.

Parts removal in Plant Manager

Plant Manager, another BySoft 7module that plans and monitors laser (and waterjet) cutting processes, has also gained a new feature, called Parts Removal. It provides visual support to the operator when unloading cut parts at the shuttle table.

All of the parts that belong to a customer order can be colour-coded on the cutting plan and are clearly distinguishable from parts required for other orders. First and last cut parts can be labelled so that the machine operator recognises when an order begins and when it is completed. After the finished parts have been unloaded, the operator has the option of registering the status on the control screen to facilitate traceability.

On behalf of: Bystronic UK Limited, 6 Wayside Business Park,
Wilsons Lane, Coventry, CV6 6NY.
Tel: +44 (0)844 848 5850.  Fax: +44 (0)844 848 5851.
Contact: David Larcombe, Managing Director.
E-mail: david.larcombe@bystronic.com
Web site: www.bystronic.com