Product News: Vision Systems, Sensors, Monitors & Transducers
CCD Image Sensor offer optimal light sensitivity, read noise.
Press Release Summary: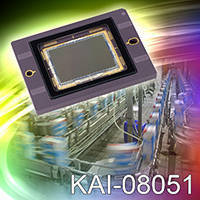 July 18, 2014 - Available in Monochrome, Bayer Color, and Sparse Color configurations, KAI-08051 has 5.5 micron pixel architecture, 8 MP resolution, 15 fps readout rate, and 4/3 optical format. Amplifier design, optimized microlens structure, and color filter pigments improve key performance parameters. Light sensitivity, color accuracy, and read noise levels meet demands of such imaging applications as intelligent traffic, surveillance, medical imaging, and industrial inspection.
Original Press Release
ON Semiconductor CCD Image Sensor Delivers Enhanced Performance for Intelligent Traffic, Surveillance, Medical Imaging and Industrial Inspection
Press release date: July 14, 2014
New KAI-08051 8 megapixel image sensor leverages technology acquired with Truesense Imaging to provide improved light sensitivity and reduced read noise

PHOENIX, AZ. — ON Semiconductor (Nasdaq: ONNN), driving energy efficient innovations, is enhancing the charge-coupled device (CCD) image sensor portfolio recently acquired from Truesense Imaging with new technology that improves imaging performance for industrial applications.

The new KAI-08051 Image Sensor provides improved light sensitivity, reduced read noise, and improved color accuracy compared to the previous generation device, expanding opportunities for 8 megapixel image capture in demanding imaging applications such as Intelligent Traffic, Surveillance, Medical Imaging, and Industrial Inspection.

"CCD image sensors continue to provide the critical image quality required in many key applications," said Chris McNiffe, Vice President, Image Sensor Business unit at ON Semiconductor.  "The enhanced performance available from the new KAI-08051 Image Sensor reflects our on-going commitment to improve the capability of our existing products and to deliver the industry's most advanced image sensors using both CCD and CMOS technology.

The KAI-08051 Image Sensor shares the same advanced 5.5 micron pixel architecture, 8 megapixel resolution, 15 frame per second readout rate, and 4/3 optical format as the existing KAI-08050 Image Sensor, but improves key performance parameters through the use of an improved amplifier design, newly optimized microlens structure, and new color filter pigments in both Bayer and Sparse color configurations. The KAI-08051 is backward compatible with the KAI-08050, requiring at most minor modifications to the firmware used in existing camera designs.  This allows the new image sensor to retain "Plug-and-Play" interoperability with the full family of 5.5-micron Interline Transfer CCD devices, enabling a single camera design to support image sensors ranging in resolution from 1 to 29 megapixels.

The KAI-08051 Image Sensor is now in production and is available in Monochrome, Bayer Color, and Sparse Color configurations.  An evaluation kit is available that allows the imaging performance of this new device to be quickly and easily examined in detail without the need to develop a full camera design.

For technical questions, please contact ON Semiconductor at (585) 784-5500 or info@truesenseimaging.com. Visit our blog at www.onsemi.com/blog.

Follow @onsemi on Twitter: www.twitter.com/onsemi

About ON Semiconductor
ON Semiconductor (Nasdaq: ONNN) is driving energy efficient innovations, empowering design engineers to reduce global energy use. The company offers a comprehensive portfolio of energy efficient power and signal management, logic, discrete and custom solutions to help customers solve their unique design challenges in automotive, communications, computing, consumer, industrial, LED lighting, medical, military/aerospace and power supply applications. ON Semiconductor operates a responsive, reliable, world-class supply chain and quality program, and a network of manufacturing facilities, sales offices and design centers in key markets throughout North America, Europe, and the Asia Pacific regions. For more information, visit http://www.onsemi.com.

ON Semiconductor and the ON Semiconductor logo are registered trademarks of Semiconductor Components Industries, LLC. All other brand and product names appearing in this document are registered trademarks or trademarks of their respective holders. Although the company references its Web site in this news release, such information on the Web site is not to be incorporated herein.

Contacts

Beth Johnston
Media Relations
ON Semiconductor
(208) 234-6738
Beth.Johnston@onsemi.com

Parag Agarwal
Senior Director Investor Relations
ON Semiconductor
(602) 244-3437
Parag.Agarwal@onsemi.com

Issued by:
Simon Krelle, Pinnacle Marketing Communications Ltd
Tel: (339) 368 6122
Email: s.krelle@pinnaclemarcom.com
Web: http://www.pinnacle-marketing.com