CAM Software suits various machine tool applications.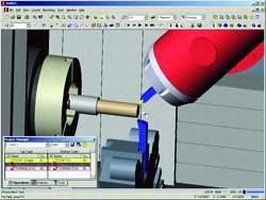 CAM Software suits various machine tool applications.
December 9, 2005 - ESPRIT 2006 delivers full-spectrum programming for 2-5 axis milling, 2-22 axis turning, 2-5 axis wire EDM, multitasking mill-turn machining, and B-axis machine tools. Opened automatically when NC code is generated, NC editor includes tabbed file manager and provides users with immediate view of code after it is processed. Report Generator creates HTML and PDF machining reports that provide complete shop floor information for milling, turning, and wire EDM machining processes.

(Archive News Story - Products mentioned in this Archive News Story may or may not be available from the manufacturer.)
Original Press release

DP Technology Corp.
1150 Avenida Acaso
Camarillo, CA, 93012
USA




ESPRIT 2006 by DP Technology Corp. Now Shipping


ESPRIT 2006 handles today's most advanced machine tools.

Leading CAM software supplier DP Technology Corp. announces the immediate availability of the latest release of their ESPRIT CAM system

Camarillo, Calif.-Dec. 1, 2005-Built upon the success of its previous product releases, DP Technology Corp. is proud to announce the immediate availability of its latest CAM software, ESPRIT 2006. Featuring functionality that emphasizes higher cutting speeds, longer tool life and suitability to increasingly complex geometry, ESPRIT 2006 is comprehensive in its ability to handle today's most advanced machine tools and demanding machining applications.

ESPRIT is described as a high-performance computer-aided manufacturing (CAM) system for a full range of machine tool applications. ESPRIT delivers powerful full-spectrum programming for 2-5 axis milling, 2-22 axis turning, 2-5 axis wire EDM, multitasking mill-turn machining, and B-axis machine tools.

Each year, through events such as ESPRIT World Conference, DP connects with its end-users and resellers to assure ESPRIT product development is focused on the needs of ESPRIT customers and markets. As a result DP is convinced this release will be well accepted by users, far exceed any competitive products, and push ESPRIT into a new and higher category of excellence in CAM software.

"The enhancements made for 2006 significantly increase the performance of ESPRIT," says Chuck Mathews, vice president of DP Technology. "CNC Programmers will find ESPRIT meets their needs better than ever with all the new features designed and added as a result of direct customer involvement in the development process. ESPRIT 2006 is another demonstration of DP's passion for excellence and commitment to provide CNC programmers with the most powerful CAM software ever."

The new developments for ESPRIT 2006 are highlighted in a 150 page manual entitled, What's New in 2006. This new manual will be shipped to all North American customers when they update to this latest version. The following features identify a few of the more notable developments for ESPRIT 2006:

Enhanced Wire EDM machining cycles

For 2006 ESPRIT offers enhanced feature recognition and machining cycles for EDM customers. These enhancements are one step along the road for DP to meet its vision for EDM programming; no prints, no dimensions, just a solid model with automated programming. The 2006 version now offers new path optimization and operation sorting, enhanced retract moves for 2-axis and 4-axis contouring, expanded strategies for 2-axis contouring and new cut off options for 2-axis contouring.

New Turning cycles

The latest developments within ESPRIT 2006 include new grooving cycles which have been added to support advances in cutting tool geometry and machine tool design, including machines capable of turning while utilizing a B-axis. These new grooving cycles offer the following key functionalities: any-tool orientation utilizing a B-axis, new pre-finish options, expanded finish pass control-enhanced for NC compensation, optimized step-over calculations, additional roughing patterns, and support for casting stock.

New Rotary Milling Cycles

ESPRIT 2006 includes a new 4-axis wrap pocketing machining cycle which allows users to easily machine in 4-axis directly from a 3D solid model. This new capability supplements the wrap-contouring cycle introduced in ESPRIT 2005. Both of these machining cycles provide the programmer with the choice of working with flat 2D or 3D representations of the work piece. Roughing, semi-finishing and finishing, including dedicated wall-finish passes and floor-finish passes, can now be combined in a single operation, and each type of pass allows the selection of a different cutting tool. Tool path can be produced on the OD or the ID of cylindrical stock, utilizing one or two rotary axes, and all tool paths are displayed in 3D for greater clarity.

Expanded Traditional Milling

Higher cutting speeds and longer tool life are the result of the expanded capabilities for traditional milling with ESPRIT 2006. This version includes new tool path options, which maintain constant material removal rates throughout the entire machining process. The new machining options are available for roughing (pocketing), semi-finishing and finishing (contouring). Other milling additions include expanded options for open pockets and bottom-up machining for operations such as back-boring.

New Report Generator

ESPRIT's new Report Generator creates machining reports in both HTML and PDF format that provide complete shop floor information for milling, turning, and wire EDM machining processes. Reports contain information about the machine, the tools, the part, operations, and the NC program. In addition, each page in the report displays a full-color image showing how the part should look at each stage of the machining process. Report creation is based on HTML and XML templates which are fully customizable to suit each individual shop's preferences.

New NC Editor

The ESPRIT NC editor was rebuilt from the ground up for 2006. This new NC Editor has a friendly interface and includes a tabbed file manager for a better view. The NC Editor opens automatically when NC code is generated to give users an immediate view of the code after it is processed. The new tabbed view makes it easy to navigate and view several NC files at once. An asterisk symbol next to a file name makes it easy to see which files have been changed, but not saved.

Automated 3D Milling

For the 3D programmer ESPRIT 2006 offers a new automated approach to defining machining boundaries thereby reducing part programming time. New slope machining options have been added to ESPRIT 3D milling cycles that let users optimize finishing passes by part or by area without defining additional boundaries. ESPRIT can now calculate areas to machine based on a user-defined slope angle and automatically create boundaries to restrict the tool path.

Enhanced 3D Free-Form Machining Cycles

FreeForm 3D machining with ESPRIT 2006 now benefits from an enhanced Z-level finish cycle for quicker programming, short cycle time and increased part quality. Programmers now benefit from the power to combine multiple types of machining strategies into a single operation for the best possible surface finish on complex surfaces. Users have the option to machine the entire part or selectively machine vertical or horizontal areas with an expanded number of options for tool motion pattern that are now available for horizontal surfaces.

About DP Technology

DP Technology is a computer-aided manufacturing (CAM) software market leader with a mission to provide CNC programmers with the most powerful CAM software ever. DP Technology's flagship product, ESPRIT, captures the company's vision of technology's potential and its passion for excellence.

DP Technology maintains its worldwide headquarters and product development team in Camarillo, California, with sales and support operations in Europe, Asia, and North and South America. For additional information about DP Technology and ESPRIT, call +1-805-388-6000, send an email to esprit@dptechnology.com, or visit the company web site at www.dptechnology.com.

---


Start Your

Free


Subscription to


Industry Market Trends

.