CAM Software facilitates programming of CNC machine tools.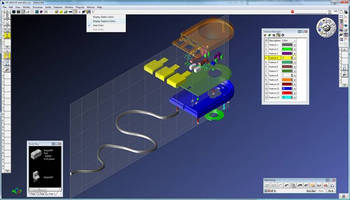 CAM Software facilitates programming of CNC machine tools.
September 20, 2010 - With automatic and feature-based programming, GibbsCAM® 2011 facilitates CNC programming while extending interoperability. Auto Wizard within Hole Manager enables storage of default settings for reuse at any time, while tagging capabilities enhance working with elements/element sets. Other features include attribute and color recognition/preservation for imported files, attribute and feature managers, and capabilities for selecting, recognizing, and drilling holes.

(Archive News Story - Products mentioned in this Archive News Story may or may not be available from the manufacturer.)
Original Press release

Cimatron Ltd
11 Gush Etzion St
Givat Shmuel, , 54090
Israel



Gibbs to Preview GibbsCAM 2011


Including New Feature-based Capabilities at IMTS 2010

Streamlines Automatic Hole Making - Adds Attribute & Feature Definitions, Color Modes

MOORPARK, CA - Gibbs and Associates, developer of GibbsCAM® software for programming CNC machine tools and a Cimatron company, announced today that it will preview GibbsCAM 2011 enhancements to the automatic and feature-based programming capabilities of GibbsCAM at the International Manufacturing Technology Show (IMTS), September 13-18, at McCormick Place, in Booth E-3810, where the Cimatron Group will also highlight its CimatronE CAD/CAM suite.

New Features Simplify and Speed Up CNC Programming and Extend Interoperability
Experienced users and those new to GibbsCAM will find demonstrations of the following new GibbsCAM 2011 capabilities very useful in understanding them and appreciating their value:

New Auto Wizard within Hole Manager - will allow storing default settings for reuse at any time, and the Auto Wizard button will allow invoking the Hole Wizard multiple times quickly. Using the streamlined Hole Manager options, users will be able to take a part with hundreds of holes and, in just three mouse clicks, auto-recognize and program them all.

Attribute Manager & Feature Manager - New tagging capabilities open the door to querying, creation, modification, sorting and filtering of elements and element sets by user-defined and system metadata tags, called attributes. When importing models, GibbsCAM users will be able to control whether and how to import attributes and geometry. Users can define features of any kind, by grouping feature geometry or grouping elements that share a specified attribute. Entities defined as features, or otherwise tagged with attributes, can be visually identified and isolated for manipulation, copying or machining.

Color Modes - When a part contains user-defined features, or when any of its elements are tagged with a color attribute, users will be able to switch among color modes: the traditional Gibbs Color mode; the new Feature Color mode to distinguish user-defined features; and various User Color modes to distinguish and select elements by their color attributes.

New Hole Capabilities - will be included for selecting, recognizing and drilling holes. Several new Variable Peck cycles and various options for user defined Custom Drill cycles will be available, and a new check box will enable reverse-order drilling. Hole Features will be selectable by face (or set of faces), or by coordinate system to which the Hole Feature is aligned. Also, a Hole Feature will be selectable by picking any of the hole's interior faces. Automatic Feature Recognition will automatically recognize entities that resemble holes, when a user specifies a face (or set of faces) or coordinate system.

Imported Feature and Color Recognition/Preservation - In opening models from SolidWorks, Pro/ENGINEER, and other major CAD/CAM packages, GibbsCAM will now read model attributes, then recognize and preserve them as attributes in the GibbsCAM part file. Colors will be preserved as CAD colors in the part file, and hole features in the model will be interpreted as hole features recognizable and usable by Hole Manager and its Auto Wizard.

For more information about GibbsCAM, or to locate your local GibbsCAM reseller, call 1-800-654-9399, or email info@GibbsCAM.com. Information about GibbsCAM is also available at the company's website, www.GibbsCAM.com.

About Gibbs and Associates and GibbsCAM
For over twenty five years, Gibbs and Associates has been a leader in providing cutting edge CAD/CAM technology, while maintaining its signature ease-of-use and productivity. Powerfully Simple, Simply Powerful is the guiding philosophy at Gibbs. Gibbs believes in empowering the NC programmer, machinist, and manufacturing engineer, not eliminating them. Gibbs' goal is to introduce manufacturers to new technologies and new ways of working that makes their machining easier and their businesses more profitable. To achieve this goal, Gibbs creates tools that are naturally intuitive, graphically interactive, extremely visual, associative, and just plain enjoyable to use. Gibbs provides a total quality solution with the service and support that successful customers require.

The current GibbsCAM product line supports 2- through 5-axis milling, turning, mill/turning, multi-task simultaneous machining and wire-EDM. GibbsCAM also provides fully integrated manufacturing modeling capabilities that include 2D, 2.5D, 3D wireframe, surface, and solid modeling. GibbsCAM is compatible with Windows 7 and certified for Windows Vista. GibbsCAM's data exchange capabilities are able to access the broadest range of native and industry standard CAD data formats. GibbsCAM is certified under the Autodesk Inventor Certified Program, is a Siemens Solution Partner Program-PLM for Solid Edge product, and is a SolidWorks Certified CAM Product. GibbsCAM is either offered or endorsed by a number of leading worldwide control and machine tool manufacturers, including GE Fanuc, Infimatic, Siemens, Doosan Infracore, Haas, Index, MAG Fadal, Mazak, Mitsubishi, Mori Seiki, and Tornos. Gibbs and Associates distributes its products worldwide through a network of international Resellers.

In January 2008, Gibbs and Associates merged with Cimatron Ltd., and is now operating as a wholly owned subsidiary. For more information about Gibbs and Associates and its CAM software packages, call 1-800-654-9399, or visit the company on-line at www.GibbsCAM.com.

About Cimatron
With over 25 years of experience and more than 40,000 installations worldwide, Cimatron is a leading provider of integrated, CAD/CAM solutions for mold, tool and die makers as well as manufacturers of discrete parts. Cimatron is committed to providing comprehensive, cost-effective solutions that streamline manufacturing cycles, enable collaboration with outside vendors, and ultimately shorten product delivery time.
The Cimatron product line includes the CimatronE and GibbsCAM brands with solutions for mold design, die design, electrodes design, 2.5 to 5 axes milling, wire EDM, turn, Mill-turn, rotary milling, multi-task machining, and tombstone machining. Cimatron's subsidiaries and extensive distribution network serve and support customers in the automotive, aerospace, medical, consumer plastics, electronics, and other industries in over 40 countries worldwide.

Cimatron's shares are publicly traded on the NASDAQ exchange under the symbol CIMT. For more information, please visit the Company's web site at: http://www.cimatron.com

The Gibbs logo, GibbsCAM, GibbsCAM logo, Virtual Gibbs, SolidSurfacer and "Powerfully Simple. Simply Powerful." are either trademark(s) or registered trademark(s) of Gibbs and Associates in the United States and/or other countries. Microsoft, Windows, and the Windows logo are trademarks of the Microsoft group of companies. All other brand or product names are trademarks or registered trademarks of their respective owners.

---