CAM Software aids in feature-based machining.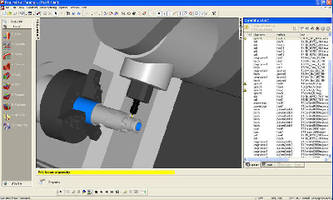 CAM Software aids in feature-based machining.
August 6, 2009 - FeatureCAM offers programming option of combined drilling and milling to provide hole creation efficiency on machines fitted with automatic tool changing. In addition to roughing and finishing toolpath generation capabilities, features include support for multi-threading when generating 3D toolpaths. Algorithms in UI accelerate editing of features and reduce time needed to switch between machine-tool set-ups, while post-processor support includes 5-axis and mill-turn equipment.

(Archive News Story - Products mentioned in this Archive News Story may or may not be available from the manufacturer.)
Original Press release

Delcam USA
275 E. South Temple, Suite 305
Salt Lake City, UT, 84111
USA



Delcam Will Launch the New Version of Its Featurecam


Delcam will launch the new version of its FeatureCAM feature-based machining software at the AMMO exhibition taking place in Las Vegas August 17-19th 2009 on booth #428. The new release will include enhancements across the full range of FeatureCAM functionality, reflecting the increased investment in development of the software since its acquisition by Delcam in 2005.

The most innovative new programming option is combined drilling and milling functionality that will allow more efficient hole creation on machines fitted with automatic tool changing. It generates roughing and finishing toolpaths to produce any holes for which the appropriate drill is not loaded, using the existing tooling within the machine's crib. The new option is much faster than having to change the tooling available to match the set of hole sizes in each job, especially for companies manufacturing prototypes or short-run components.

It will also allow complex parts to be produced more easily in cases where the range of hole sizes is larger than the number of positions in the crib. In addition, the number of different tools that need to be stocked can be reduced and it will be much simpler to move jobs between different machine tools. Companies that do not have automatic tool changing on their machines can also benefit because in some cases, it will be possible to use a combination of drilling and milling with a single cutter to generate all the holes in a part.

Another important of development is support for multi-threading when generating 3D toolpaths. This allows calculations to be spread across multiple cores in dual- or quad-core computers. Average time savings are around 25% on a dual-core PC.

Improved algorithms have been introduced within the user interface to speed up the editing of features and to reduce the time needed to switch between machine-tool set-ups, while more efficient handling of stock models will reduce the memory required and so enhance performance still further.

The range of post-processors available with FeatureCAM has been further extended for both five-axis and mill-turn equipment. New machines now supported include the DMG CTX and GMX, Doosan Puma MX and TT, Mazak Integrex ST, Nakamura NTX and NTJX, and Okuma Macturn.

"FeatureCAM was the world's first feature-based programming system when it was introduced in 1995," states Development Director Tom McCollough. "More recently, other CAM developers have tried to copy our automated approach to programming. However, with our longer history and bigger R&D investment, we believe that FeatureCAM still maintains its clear leadership in knowledge-based machining."

For further information on Delcam's FeatureCAM CAM system, please contact: -
Mary Shaw, Marketing Manager
Direct phone: 519 974 8088 ext 232 e-mail: mes@delcam.com

---


Start Your

Free


Subscription to


Industry Market Trends

.