CAD/CAM Software optimizes 5-axis toolpaths.
Press Release Summary: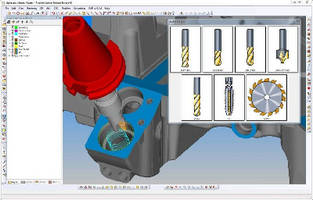 June 5, 2014 - With Alphacam 2014 R2, users can optimize 5-axis toolpaths to their specific machine configuration and rotational axis limits. Part Modeler includes ability to convert imported DXF or DWG 2D drawing into 3D model automatically. It works by defining relevant views from 2D file, using intelligent loop selection or tracing around profile of part. Redesign of Automatic Feature Extraction dialog includes optimized layout, images for each option, and context-sensitive help.
Original Press Release
Alphacam Leads the Way with 2014 R2 Enhancements
Press release date: May 28, 2014
Major enhancements to 5-axis toolpath functionality, along with the ability to automatically convert 2D design data to a 3D model, are included in the latest release of Alphacam, part of the Vero Software product portfolio. Updates to the Feature Extraction function also bring additional benefits to users.

The Alphacam 2014 R2 update includes several new and enhanced features which continue to demonstrate why Alphacam leads the way in improving productivity and flexibility for manufacturers, increasing their profitability.

Alphacam General Manager Nick Spurrett says: "There are a number of exciting new developments in Alphacam 2014 R2, including the ability to optimise 5-axis toolpaths to a specific machine configuration, and Part Modeler has been enhanced to convert DXF and DWG 2D drawings into 3D models."

Amongst the new functionality and enhancements:

5-Axis Toolpath Optimiser: Using 2014 R2, operators can optimise 5-axis toolpaths to their specific machine configuration and rotational axis limits. As this is carried out at an operational level, any changes to the toolpath data or machine configuration will be highlighted and the operation can be easily updated and re-optimised. The enhanced tooling Machine Angles are readily available as Element attributes for post processing and also driving the new simulator. The complete operation is analysed against the user settings, and where required the toolpath will be automatically split into separate sections, with options to maintain Feed Down and Lead In/Out settings on the modified toolpaths.

Part Modeler: This now includes the ability to convert an imported DXF or DWG 2D drawing into a 3D model automatically. It works by simply defining the relevant views from a 2D file by using intelligent loop selection or tracing around the profile of the part. Using a combination of correctly oriented profile projections, a 3D solid model can be automatically constructed, ready for manufacture.

Feature Extraction: Notable enhancements include a complete redesign of the Automatic Feature Extraction dialog with improved layout, images for each option and context sensitive help. In addition, partial hole extraction is possible by specifying a partial angle range and small hole chamfers can now be extracted with options on the Feature Configuration dialog to set the preferred tool directions for internal and external paths. Finally, all feature extraction commands will extract to the current workplane if possible, and the active user layer.

Clamps and Fixtures: Enhancements enable more exact positioning and greater control against collisions as containment and positional geometry can now be set to better position clamps and fixtures against other data. Clamp moves can now be controlled using the new "Can Pop Up" option with improved Post Processor support.

Nesting: Alphacam 2014 R2 includes a number of significant enhancements to the nesting capabilities. The three major developments to this are Kit Nesting, where each part in the nest can be assigned a kit number, so that kits of parts can be nested to the same sheet; setting a No Nest Zone to a sheet which will apply to all subsequent sheets; and the New Nesting Special Function (unique to the Vero Group Nester) which prevents nesting into part apertures. This release also includes a new Bridged Nesting option which will analyse the nest to determine the outer Toolpath and bridge the parts together, keeping the tool down in the material whilst all the parts are cut out, thus minimising on tool lifts and re-positions.

BTL Translator: New functionality now allows components to be produced which are suitable for nesting, and includes the option to create a CSV file for all processed nesting parts, which can be loaded directly into CAD to CAM, and Cabinet Door Manufacturing.

Headquartered in England, Vero Software designs, develops, and supplies CAD/CAM/CAE software radically enhancing the efficiency of design and manufacturing processes, providing its customers with exceptional value through high productivity gains and significantly reducing time to market. The company's world-renowned brands include Alphacam, Cabinet Vision, Edgecam, Machining STRATEGIST, PEPS, Radan, SMIRT, SURFCAM, WorkNC and VISI, along with the production control MRP system Javelin. Despite the diversity of application, these solutions have one thing in common: they all address the rising challenges of achieving manufacturing efficiencies and bring huge value to the operations in which they are deployed.

Vero sells and supports its range of products through its direct offices in the UK, Italy, France, Germany, Netherlands, USA, Brazil, India, Japan, Korea and China, and through a comprehensive global reseller network across more than 45 countries.

Issued by Vero UK Limited
Contact –
Stewart Bint
Tel +44 (0) 1189 756084
E-mail: stewart.bint@verosoftware.com
www.verosoftware.com 
 
Alphacam:       http://www.alphacam.com