CAD/CAM Software aids design of corrective orthotic insoles.
Press Release Summary: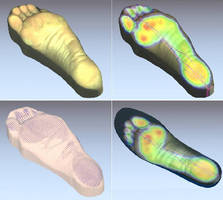 July 7, 2014 - Featuring direct interface to Delcam's iQube scanners, OrthoMODEL 2014 R3 enables real-time design of both accommodative orthotics, suitable for patients with diabetes and for those requiring comfort insoles, and corrective orthotics, to address problems with patient's foot orientation and gait cycle. Program enables 2D images to be imported and overlaid onto 3D scan data, and allows multiple images to be displayed simultaneously, helping users make informed decisions.
Original Press Release
Delcam Upgrades Software for Accommodative and Corrective Orthotic Insoles
Press release date: June 27, 2014
Delcam has launched the 2014 R3 version of its OrthoMODEL software for the design of custom orthotic insoles.  The new release includes the ability to display multiple 2D images and a 3D model simultaneously, and a range of improvements to the user interface to simplify workflow and reduce design times.  For further details, please go to lz.orthotics-cadcam.com

OrthoMODEL offers "real-time design" of both accommodative orthotics, ideal for patients with diabetes and for those requiring comfort insoles, and corrective orthotics, to address problems with the patient's foot orientation and gait cycle.

The software has a direct interface to Delcam's iQube range of scanners, all of which are able to scan the patient's foot, foam boxes or casts.  As an open system, it can also import scan data from most other systems as well as create NC code for orthotics generated in other CAD systems

The new version of OrthoMODEL represents a big leap forward in bringing together 2D image data and 3D scan data.  When both types of data are presented together, users are better able to decide upon the required features in the orthotic.

OrthoMODEL enables multiple 2D images to be imported and overlaid onto the 3D scan data.  This ability creates a dynamic environment where user can interpret the information represented by the 2D images in situ over the 3D model. 

The extra dimension that OrthoMODEL offers is in allowing multiple images to be displayed at the same time, for example, the user can overlay the photographic image of the plantar surface and an image from a pressure system, and be able to see the data from both whilst overlaid on the 3D scan.  The ability to vary the transparency of the scan, images and orthotic allows a full appreciation of how the various elements work together to influence the overall design.  As a result, more informed decisions can be made as to the prescriptive requirements and on where any additions may need to be located, such as a depression to relieve a sore.

Also new to this version is a dramatically updated user interface.  A new image page to capture, import and present multiple images, plus extra display utilities on the alignment and design pages, make for a better user experience and enable decisions on the orthotic design to be made quickly and accurately.

The system has also been updated to allow users who purchase a Delcam iQube scanner to send orders that contain either scan data or the finished design through to range of on-line labs that can fulfil the manufacture.  This allows users to embrace the digital design world without the need for a CNC mill or router.

As with all of Delcam's products for the orthotics industry, the new software has been developed in association with Delcam customers from laboratories, podiatrists and orthotists around the world, coupled with Delcam's knowledge of footwear design and manufacture gained from its relationships with leading brands.

For further information on Delcam solutions for orthotics design and manufacture, please contact: -
Peter Dickin
Marketing Manager
Direct phone: 44 (0)121 683 1081 
e-mail: marketing@delcam.com

Delcam plc     
Small Heath Business Park,   
Birmingham, B10 0HJ, UK      
www.delcam.com