Brushless DC Servo Motor integrates motion controller.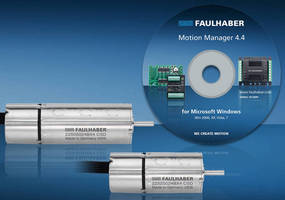 Brushless DC Servo Motor integrates motion controller.
October 28, 2010 - Supplied as 22 mm module with uniform-diameter construction, 2232/2250...BX4 CSD/CCD motors come in 32 and 50 mm lengths with 24 Vdc rating and non-cogging torque output of 18-35 mNm. Adhesive-free products, suited for use in demanding applications, have serial RS232 or CAN interfaces, operate from -25 to +85°C, and offer configurable speed from 5-8,000 rpm. Thermally allowable continuous current is 0.69 A max, and automatic peak and continuous current limitation are standard.

(Archive News Story - Products mentioned in this Archive News Story may or may not be available from the manufacturer.)
Original Press release

MicroMo Electronics, Inc.
14881 Evergreen Ave.
Clearwater, FL, 33762 3008
USA



2232/2250...BX4 CSD/CCD; The World´s Smallest Brushless Motor with Integrated Motion Controller


The well-known BX4 family of brushless DC servo motors welcomes an innovative new member. With a 22 mm module, the 2232/2250...BX4 CSD/CCD is the world´s smallest brushless motor with integrated motion controller in uniform-diameter construction. It combines all the advantages of BX4 technology in a tiny package: long service life, high non-cogging torque and freedom from adhesives. This makes them ideal for use in demanding application areas such as robotics, automation, medical technology, specialty machinery and the aerospace industry.

The drives are based on proven FAULHABER motion control systems. With their compact, uniform-diameter construction and suitable gearing combinations, they provide the ideal drive solution for a wide variety of applications. The drives have serial RS232 or CAN interfaces and can be configured using FAULHABER Motion Manager 4.4 software. Additional features of the new drives further expand their scope of use: a wide temperature range of -25 to +85 °C, thermally allowable continuous current up to 0.69 A, and flexibly configurable speed in the range of 5 to 8000 rpm. The units are also available with customer-specific software on request.

All products with integrated electronics have automatic peak and continuous current limitation to protect the motor and the electronics. Operation of the motor and the electronics from separate supply voltages is possible as an option.

The new drives are available in two motor lengths (32 and 50 mm) with a rated voltage of 24 V DC. Outstanding features of these innovative new products are an extremely flat torque versus speed curve and an excellent torque to volume ratio, with torque output of 18 to 35 mNm.

About FAULHABER
The FAULHABER Group offers the world's largest consolidated portfolio of miniature and micro drive system technologies available from one partner in the world today. The Group specializes in the design and manufacture of complex, high precision miniature and micro drive systems for challenging areas of application like medical devices, handling automation, telecommunications, and precision optics. The FAULHABER brand name is known worldwide as a symbol of high quality, precision miniature drive systems, components and controls. With a technology focus on the self-supporting, skew-wound, ironless rotor, DC Motor and precision system components such as gearboxes, encoders, and motion controllers the brand name has been built around the highly competent design, manufacturing, and after sales service and support of the three founding members of the FAULHABER Group.

www.faulhaber.com

MICROMO
14881 Evergreen Avenue
Clearwater, FL 33762-3008
SALES Department
Phone: +1 (727) 572 0131
Fax: +1 (727) 572 7763
info@micromo.com

Dr. Fritz Faulhaber GmbH & Co. KG
Daimlerstraße 23/25 | 71101 Schönaich | Germany
REBMANN Kristina
Phone: +49 7031 638 - 148
Fax: +49 7031 638 - 333
kristina.rebmann@faulhaber.de

---


Start Your

Free


Subscription to


Industry Market Trends

.