Broadcast Monitoring Software streamlines workflow.
Press Release Summary: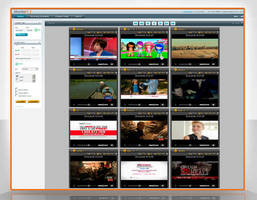 April 3, 2014 - Run on Open Media Appliance scalable, industrial-grade server, Monitor IQ v4.0 provides in-house logging and compliance monitoring solution for traditional broadcasting media. Functionality covers signal/loudness monitoring, aircheck logging, ad verification, competitive analysis, and content repurposing. Along with multilingual A/V and VANC metadata recording, features include search, transport stream recording, Web captioning, engineering alerts, editing, and playback capabilities.
Original Press Release
NAB 2014: Digital Nirvana's Broadcast Monitoring System Streamlines Workflow with Powerful New Features
Press release date: March 26, 2014
Newark, CA — Digital Nirvana will introduce the latest release of its broadcast monitoring software, Monitor IQ 4.0, at the NAB 2014 convention being held from April 5-10th at the Las Vegas Convention Center. Digital Nirvana will exhibit in Booth #SU11017. Monitor IQ is an in-house logging and compliance monitoring solution for traditional broadcasting media.

"We continue to add innovative functionality to Monitor IQ," said Arco Groenenberg, director of sales and marketing for Broadcast Products, Digital Nirvana. "New features like transport stream recording, SmartSearch, editing, playback and advanced engineering alerts make Monitor IQ one of the smartest monitoring solutions in the industry while offering excellent price for performance."

Monitor IQ 4.0 Broadcast Monitoring System
Monitor IQ combines signal-monitoring, loudness monitoring, aircheck-logging, ad verification, competitive analysis and content repurposing and runs on Digital Nirvana's Open Media Appliance – a highly scalable, industrial-grade server. The Open Media Appliance accepts multiple inputs including SD/HD SDI, ASI, ASI-IP, ATSC, QAM, 50 Hz, 60 Hz and DVB-TC/S2. It exports content in a wide range of file formats for content repurposing, including Flash, MPEG-2, MPEG-4 and H.264, and XDCAM.

Monitor IQ can record Multi-language Audio/Video and VANC Metadata. Designed with an efficient architecture and a simple Web interface, it integrates seamlessly with third party software. The resulting workflow is quick and easy, making the most of time and money.

With Monitor IQ, there's no need to install ActiveX. It's compatible with all standards-compliant web browsers. Its extensive search function can use keywords, CC text, metadata, titles, descriptions, as-run and traffic logs, imported and discrepancy reports.

Web Captioning ensures that programming complies with new FCC closed captioning mandates in the SMPTE Timed Text Format. Program Guide Extraction automatically extracts EIT data directly from the broadcast, enabling recording by program. Plus, an Infrastructure Self-Check performs more than 40 types of ongoing system checks to proactively monitor the total health of the Monitor IQ system.

Available options for Monitor IQ include: an iPad/iPhone/Android interface, NAVE Watermark Decoding, Centralized Management, Director's Audio Track and a REST API for 3rd party development.

About Digital Nirvana
Since 1996, Digital Nirvana has been empowering customers with innovative knowledge management technologies. By combining media and digital technology expertise, Digital Nirvana makes it possible for organizations to streamline operations and gain competitive advantage with advanced product and service offerings. The company's product portfolio includes the industry-leading Monitor IQ broadcast monitoring system, AnyStream IQ OTT monitoring solution, and the MediaPro content repurposing system. A comprehensive service portfolio includes media monitoring and analysis, market intelligence and analytics, and learning management services. Digital Nirvana is headquartered in Fremont, California with offices in Hyderabad and Coimbatore, India. For more information visit http://www.digital-nirvana.com.

For more information, contact:
Robin Hoffman
Pipeline Communications
277 Valley Way
Montclair, NJ 07042
917-763-8069
robinhoffman@pipecomm.com
www.pipecomm.com

Arco Groenenberg
Digital Nirvana
3984 Washington Blvd., Suite 355
Fremont, CA 94538--4954
510-226-9000 ext. 707
arco@digital-nirvana.com
www.digital-nirvana.com