Broadcast Antenna supports keyless smart entry in vehicles.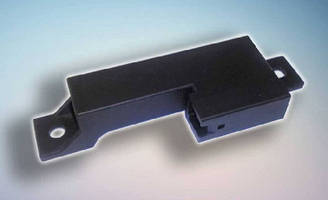 Broadcast Antenna supports keyless smart entry in vehicles.
April 6, 2012 - Designed for low frequency field emission, Series KGEA-HB can be inserted in bumper or trunk of vehicle, as well as locations subjected to extreme environmental conditions. Half-bridge antenna supports medium to large reading distances with average current of 1-3 A pk-pk and resonant frequency adjustable below ±1%. Providing stable operation in temperatures from -40 to +85°C, antenna system is fully sealed with waterproof connector built in.

(Archive News Story - Products mentioned in this Archive News Story may or may not be available from the manufacturer.)
Original Press release

PREMO Group
C/. Conchita Supervía, 13 - 08028
Barcelona, ,
Spain



PREMO Enhances Its Emitter Antenna Range with the KGEA-HB Series


The new series of broadcast antennas KGEA-HB, are designed for field emission LF (low frequency) and allow remote access to the car to those customers who have identification devices as vehicle passive entry. The antenna is protected and sealed by a system of ultrasonic welding.

This half bridge antenna can be inserted in the bumper or trunk of the vehicle and/or in some locations subjected to extreme environmental condition. Waterproof connector built-in proper plastic box provide a fully sealed antenna system to avoid any kind of dust and water ingress.

Key points:

o Transmitter low frequency (LF).

o High stability in temperature (-40ºC up to +85ºC).

o Ideally used in keyless smart entry system.

o Resonant frequency adjusting below +/- 1%.

o Medium-Large reading distances with average current 1-3Apk-pk.

o Strong anchor points which provide an easy assembly and will ensure mechanical robustness.

o Custom L-C value (F-Res) under demand.

For more information about dimensions, electrical diagrams and values chart, please visit PREMO website: www.grupopremo.com

Premo Group is a worldwide leading company designing, manufacturing and supplying standard or custom made inductive components for the electronics market. Our wide range of products as RFID transponder coils, EMC filters, PLC accessories, planar transformers, current transducers and chokes cover most applications in the different market sectors

For further information you can always contact:

Communication Department:

Rocío Arrupe

Rocio.arrupe@grupopremo.com

PREMO Headquarter

Severo Ochoa 33

Parque Tecnológico de Andalucía, Campanillas

Málaga, España

T.: +34 951 231 320

F.: +34 951 231 321

E.: rocio.arrupe@grupopremo.com

W.: www.grupopremo.com

---
See related product stories


Start Your

Free


Subscription to


Industry Market Trends

.