Product News: Transportation Industry Products
Broadband Sounder Module reaches depths of 10,000 ft.
Press Release Summary: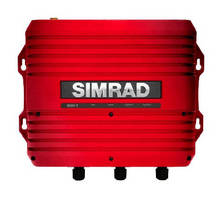 July 3, 2014 - With CHIRP Compressed High-Intensity Radar Pulse, Simrad BSM-3 provides optimized target separation, clarity, and resolution throughout water column to locate fish near shore and offshore. Unit is compatible with Airmar Wide-angle CHIRP transducer series, which provides 25° beam angle across frequency range. Encased in aluminum housing with waterproof access cover, sounder includes bottom color tracking and split zoom control, as well as selection of scroll speeds and transmit power settings.
Original Press Release
Announcing the Powerful Simrad BSM-3 Broadband Sounder Module
Press release date: June 24, 2014
Electronics Leader Unveils 3rd Generation Broadband Echosounder with CHIRP

Nashua, N.H. – Simrad Yachting, a leader in the design and manufacture of world-class marine navigation, autopilot, radar, communications and fishfinding systems, announced today its next-generation sonar system, the Simrad BSM-3 Broadband Sounder with CHIRP (Compressed High-Intensity Radar Pulse). The Simrad BSM-3 is the most advanced broadband sounder on the market. Capable of reaching depths of 10,000 feet (3,000 meters), the BSM-3 has been engineered to provide unparalleled industry-leading target separation, clarity and resolution throughout the water column to locate fish both near shore and offshore.

The Simrad BSM-3 is optimized for use with the Simrad NS Series including the new NSS evo2 and NSO evo2 systems—the latest and best multifunction devices available from the brand. The BSM-3 is compatible with the range of Airmar transducers and is optimized for the new Airmar Wide-angle CHIRP transducer series, which provide more coverage and a 25-degree beam angle across the entire frequency range. It is designed to give recreational boaters and commercial fisherman the highest dependability and performance available in a sonar system.

Easy-to-use features such as bottom color tracking and easy split zoom controls, as well as a selection of scroll speeds and transmit power settings set the brand's sonar systems well above the competition. Encased in a rugged aluminum housing with a waterproof access cover and easy-to-connect transducer plugs, the BSM-3 is easy to install. Users simply run cables and then connect them to their Simrad NS-Series multifunction device.

"Building on our industry-leading CHIRP sonar technologies, the Simrad BSM-3 Broadband Echosounder with CHIRP gives anglers outstanding clarity and target definition," said Leif Ottosson, CEO, Navico. "Through constant research and development, Simrad has improved upon our already cutting-edge design by making the BSM-3 easier to use and install."

The high-performance Simrad BSM-3 Broadband Sounder with CHIRP can be purchased from authorized Simrad Yachting dealers and distributors throughout the United States and Canada for a suggested retail price of US $1,999. For more information on the Simrad BSM-3 or the brand's entire line of marine electronics contact 800-628-4487 (toll-free) in the USA or 800-661-3983 (toll-free) in Canada, or visit www.simrad-yachting.com.

About Simrad Yachting: The Simrad brand is wholly owned by Navico, Inc., a privately held, international marine electronics company. Navico is currently the world's largest marine electronics company, and is the parent company to leading marine electronics brands: Lowrance, Simrad and B&G. Navico has approximately 1,500 employees globally and distribution in more than 100 countries worldwide. www.navico.com