Product News: Test & Measuring Instruments, Sensors, Monitors & Transducers
Bottle Cap Torque Tester supports dual testing modes.
Press Release Summary: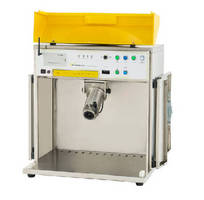 July 28, 2014 - Supporting open force and lock force testing modes, i-PROCESS 1600 can be used in torque determination of caps of bottles, flexible packages, and vacuum flasks. System features dustproof and waterproof design, overload protection, and malfunction alerts, guaranteeing safety of operators in testing process. Suitable for on-site testing, i-PROCESS 1600 is equipped with embedded computer control system, which can complete test with assistance of U-Lab Testing Data Integrated Platform.
Original Press Release
On-Site Bottle Cap Torque Tester Can Serve Food, Beverage and Pharmaceutical Industries
Press release date: July 25, 2014
Labthink Bottle Cap Torque Tester supports dual testing modes i.e. open force and lock force. It could be used in torque determination of the caps of bottles, flexible packages and vacuum flasks, etc. i-PROCESS 1600 is featured with dust-proof and water-proof design, overload protection and malfunction alert functions, which makes it quite suitable for on-site testing requirements and guarantees the safety of the operators in testing process.

i-PROCESS series instruments are recently developed by Labthink, which are applicable in the on-site testing tasks. There are totally 5 i-PROCESS series instruments, which could be used in leak and seal test, torque test, headspace gas analysis, volume and weight analysis, etc. All those instruments are equipped with embedded computer control system, which could complete the test with assistance of U-Lab Testing Data Integrated Platform. Before testing, the operator shall set test parameters in U-Lab Testing Data Integrated Platform and print out the 2D barcode. Then the test could be started by scanning the 2D barcode. The test data could be automatically uploaded and stored in the platform database. The user could monitor the on-site testing data in U-Lab Testing Data Integrated Platform by viewing the test results and statistical analysis so that the problems could be figured out in time and the risks could be avoided in production.

Labthink International Inc.
200 River's Edge Drive
Medford, Massachusetts, 02155, U.S.A.
Phone: +1-617-830-2190
FAX: +1-781-219-3638
Email: info@labthinkinternational.com
Website: http://www.labthinkinternational.com