Boost Inductor is suited for switched-mode power supplies.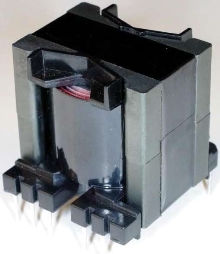 Boost Inductor is suited for switched-mode power supplies.
March 29, 2005 - Designed to improve performance of switch-mode power supplies, HXLB40002 is based on Hyper-X Magnetic Technology(TM), which helps reduce ac losses. It provides 800 W of power in PQ35 package and exhibits dissipation of less than 1% of output regardless of duty cycle. Designed for 100 kHz switching frequency, product features inductance of 300 µH at zero bias and 275 µH min at 6.7 Adc; energy capacity of 6,500 µJ; and volt-time rating of 1,000 VµS min.

(Archive News Story - Products mentioned in this Archive News Story may or may not be available from the manufacturer.)
Original Press release

RAF Tabtronics LLC
200 Lexington Ave.
DeLand, FL, 32724
USA



HXLB40002 Hyper-XMT(TM) Boost Inductor


Austin, TX Mar. 07, 2005 -- Tabtronics Inc. today introduces a new line of groundbreaking magnetic components based on the company's Hyper-X Magnetic Technology(tm). The announcement is being made at the Applied Power Electronics Conference 8t Exhibition (APEC2005).

These innovative components promise to dramatically improve the performance of switch-mode power supplies used in commercial, industrial, telecommunications and military applications.

HXLB40002 Hyper-XMT(tm) BOOST INDUCTOR
The HXLB40002 Boost Inductor provides 800 watts of high-efficiency power in a standard PQ35 package. Hyper-X Magnetic Technology (tm) greatly reduces AC losses (-70%) without the DC power robbing penalty of Litz wire at low line input. Designed for 100kHz switching frequency, this unprecedented inductor exhibits dissipation of less than 1% of output regardless of duty cycle.

The inductance of this device is 300uH at zero bias, and 275uH minimum at 6.7ADC. With an energy capacity of 6,500uJ and a volt-time rating of 1,000VuS min, this device sets new standards for cost effective high performance.

About Tabtronics Inc.

Tabtronics specializes in creating and commercializing advanced technology for electromagnetic components. The company's technology is relied upon by high technology, military, avionics, and industrial customers.

Tabtronics has 25 years experience in direct manufacture of electromagnetic components, and also licenses its technology to other manufacturers and system integrators. The firm's continuing focus is the development of innovative methods to provide more power through smaller components.

Tabtronics Inc., thinking big. designing small. magnetics to the highest power (TM).

For more information, visit the company's web site at http://www.tabtronics.com

Tabtronics, Inc.
James Tabbi
President & CEO
email: jtabbi@tabtronics.com
phone: 585-243-4331 x120

To schedule a press interview during APEC2005, please call: 585-729-7909

Tabtronics Inc. is a trademark and other Tabtronics product and service names and slogans referenced in this web site are trademarks or registered trademarks of Tabtronics Inc. All other company, product or service names referenced in this web site are used for identification purposes only and may be trademarks of their respective owners. Product specifications are subject to change without notice.

---
See related product stories


Start Your

Free


Subscription to


Industry Market Trends

.