Product News: Communication Systems & Equipment
Bluetooth v4.0 Module has dual-mode stack, 300 m range.
Press Release Summary: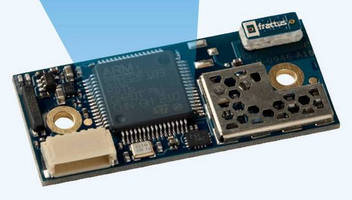 April 2, 2014 - Bluetooth® Dual-mode (Bluetooth Smart Ready) System-on-Module OBP421 makes it is possible to get full control of all system resources in one solution and can also used as complete host CPU replacement. ARM®Cortex™-M3, 32-bit RISC core operates at 72 MHz with high-speed embedded memories consisting of Flash up to 384 kB and SRAM up to 64 kB. MCU offers range of I/O, peripherals, 12-bit ADCs, general-purpose 16-bit timers, PWM timers, as well as I²C, SPI, USART, and CAN interfaces.
Original Press Release
connectBlue® Presents a Bluetooth Dual-mode System-on-Module
Press release date: March 31, 2014
connectBlue has today launched the System-on-Module OBP421 which is a Bluetooth Dual-mode (Bluetooth Smart Ready) module. The System-on-Module OBP421 is a compact and fully customizable module particularly suitable in industrial, medical and Internet of Things (IoT) applications where Bluetooth dual-mode capability, quick time-to-market and cost efficiency are of key importance.

With the Bluetooth Dual-mode System-on-Module OBP421, it is possible to get full control of all system resources in one compact solution. Since the OBP421 is Bluetooth Smart Ready, it will become possible to create, compile and link real C code embedded applications with the ability to access any connected Bluetooth Smart sensor using the Generic Attribute Profile (GATT). Examples of customer specific embedded application software written in C include protocol conversion, data logging, scaling and filtering of digital & analog I/O signals, HMI functionality, CAN-bus connectivity, and intelligent (I2C / SPI) sensor connectivity.

The OBP421 is based on the standard Bluetooth Serial Port Module OBS421 which has already been proven in use in demanding applications. Recently, the OBS421 was equipped with an even more powerful microcontroller unit (MCU) which laid the foundation for the OBP421 launch. This ARM®Cortex™-M3 32-bit RISC core operates at a 72 MHz frequency with high-speed embedded memories consisting of Flash memory up to 384 kB and SRAM up to 64 kB. The microcontroller offers an extensive range of enhanced I/Os, peripherals, 12-bit ADCs, general-purpose 16-bit timers, PWM timers, as well as standard and advanced communication interfaces like I2C, SPI, USART, and CAN.

"Thanks to the powerful microcontroller, the OBP421 module can even be used as a complete host CPU replacement," says Rolf Nilsson, CEO of connectBlue. "The customer can thus use our OBP421 for the entire system needs benefitting from the design, testing and type approvals already implemented in the OBP421. Thereby, the customer gets a compact system design on a proven hardware with full application flexibility gaining greatly on time-to-market and cost efficiency."

Customers that have already purchased the Bluetooth Serial Port Module OBS421 can get the Bluetooth System-on-module OBP421 functionality by purchasing a Starter Kit for the application software implementation and sign a royalty-free software licensing agreement.

The Bluetooth Dual-mode System-on-Module OBP421 is a Bluetooth v4.0 module with 300 meters wireless range, GATT support for Bluetooth Smart, Android support and iOS support (Bluetooth low energy only). Each module is individually tested during production and the OBP421 is radio type approved for USA (FCC Part 15), Europe (ETSI R&TTE), Japan (MIC - formerly TELEC) and Canada (IC RSS). The OBP421 is also compliant with EMC, Safety and Medical standards, and Bluetooth qualified. Further, the module has an embedded Bluetooth dual-mode stack (SPP, DUN profiles and connectBlue Low Energy Serial Port Service) as well as a temperature range of -30°C to +85°C.

About Bluetooth Dual-mode (Bluetooth Smart Ready)
Bluetooth dual-mode devices (also known as "Bluetooth Smart Ready" devices) include both Bluetooth low energy and Classic Bluetooth. A typical dual-mode device is a mobile phone, PC as well as the connectBlue Rugged Serial Port Adapter RBS421, Serial Port Module OBS421 and System-on-Module OBP421. Bluetooth low energy is ideal for applications with low data rates at periodic intervals, while Classic Bluetooth is optimized for streaming data at medium to high rates. Bluetooth low energy has inherited features such as Adaptive Frequency Hopping (AFH) from Classic Bluetooth, but from an application perspective it is different. For more information about Classic Bluetooth and Bluetooth low energy technologies, please visit http://www.connectblue.com/technologies/bluetooth-low-energy-technology.

About connectBlue
connectBlue® is a leading provider of reliable wireless solutions for the last hundred meters of connectivity. The robust and high performing products are designed and tested for demanding industrial, medical, measurement / data acquisition and quality assurance applications. Based on Classic Bluetooth, Bluetooth low energy, WLAN and Multiradio solutions, connectBlue markets ready-to-embed wireless modules as well as ready-to-use wireless Serial / Ethernet Port Adapters and Access Points. The connectBlue products are radio type approved for European, US, Canadian, Japanese markets as well as are compliant with EMC, Safety and Medical standards, and the Bluetooth qualification program. connectBlue has its head office in Sweden and local offices in Germany and USA. For more information, please visit www.connectblue.com.

connectBlue® is a registered trademark of connectBlue AB.

For further information
Rolf Nilsson, CEO, connectBlue
Phone: +46 40 6307102
Email: rolf.nilsson@connectblue.com