Product News: Material Handling & Storage, Portable Tools, Machinery & Machining Tools, Construction Equipment & Supplies
Block System optimizes road milling efficiency.
Press Release Summary: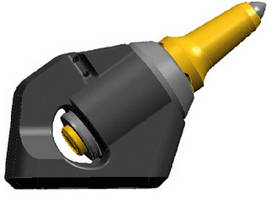 March 31, 2014 - Consisting of taper-press retention system that requires only single spare part for backup, KPL/KPR302 System offers long gauge length, which minimizes power requirements for road milling. Longer wear length translates into extended milling before maintenance is required. Tools and holders are designed for all road milling applications and cutting conditions, particularly for profile milling with cuts greater than 6 in.
Original Press Release
Raising Road Milling Efficiency across the Board with New KPL/KPR 302(TM) Block System
Press release date: March 21, 2014
More miles and better performance

Raise milling efficiency and reduce drag with Kennametal´s new KPL/ KPR302 system. Investigating new tooling systems can be an extremely valuable experience for road builders. This is because new systems should lead to improved efficiencies, and improved efficiencies lead to more miles and better performance of critical road-building equipment. With increased cutting action and decreased cutter drag, the new KPL and KPR 302 system from Kennametal delivers that sought-after value on many levels. Specifically, a longer gauge length on the new KPL and KPR 302 block system for road milling drums reduces power requirements for road milling. At the same time, the system´s 20 percent longer wear length translates into more time milling before maintenance is required. Overall, conveyance capacity is improved by 50 percent while reducing drag on the cutter. Kennametal´s KPL and KPR 302 system is a taper-press retention system that installs quickly and reliably and requires only a single spare part for backup. Other road milling tool systems are comprised of threaded milling system components. This not only means more replacement parts to purchase and stock, but also threading them into place at the required torque level and verifying installation to ensure adequate performance.  KPL and KPR 302 tools and holders are designed for all road milling applications and cutting conditions, particularly for profile milling with cuts greater than six inches (150 mm). In short, the harder your equipment works, the greater the efficiency gain. Doing more with less and aggressively seeking new ways to stretch budget dollars are how many road building businesses respond to a tough economic climate. Kennametal´s KPL and KPR 302 holder system is a great way to improve both equipment and bottom-line performance. For more information, visit www.kennametal.com.

Kennametal
Celebrating more than 75 years as an industrial technology leader, Kennametal Inc. delivers productivity to customers seeking peak performance in demanding environments. The company provides innovative wear-resistant products, application engineering and services backed by advanced material science, serving customers in 60 countries across diverse sectors of aerospace, earthworks, energy, industrial production, transportation and infrastructure. With approximately 14,000 employees and nearly $3 billion in sales, the company realizes half of its revenue from outside North America, and 40% globally from innovations introduced in the past five years. Recognized among the "World's Most Ethical Companies" (Ethisphere); "Outstanding Corporate Innovator" (Product Development Management Association); and "America's Safest Companies" (EHS Today) with a focus on 100% safety, Kennametal and its foundation invest in technical education, industrial technologies and material science to deliver the promise of progress and economic prosperity to people everywhere. For more information, visit the company's website at

Kennametal Inc.
1600 Technology Way
PO Box 231
Latrobe, PA 15650-0231
USA
Kathy LINDEN
Phone: 724 539 5698
Fax: 724 539 6766
kathy.linden@kennametal.com

Kennametal Shared Services GmbH
Wehlauer Strasse 73
D-90766 Fuerth
Carsten GROMOLL
Phone: +49 911 9735 557
Fax: +49 911 9735 551
carsten.gromoll@kennametal.com