Product News: Test & Measuring Instruments
Bit Error Rate Tester addresses 100G optical receiver test needs.
Press Release Summary: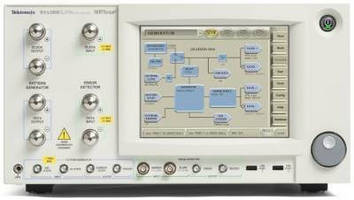 May 29, 2014 - Designed for low intrinsic jitter and precision impairments required for testing 100G communications standards, including OIF-CEI, CAUI, and InfiniBand, BSA286CL BERTScope® maintains sub 300 fs intrinsic jitter floor performance at key 100G data rates. Jitter impairment system incorporates modulation technology to 100G PHY Layer testing as well as combined Random, Bounded Uncorrelated, and High Frequency Sinusoidal Jitter (RJ, BUJ, and SJ) impairments up to 28.6 Gbps.
Original Press Release
Tektronix Delivers New BERTScope Model Addressing 100G Optical Receiver Test Requirements
Press release date: May 20, 2014
New BSA286CL Offers the Industry's Broadest Precision Jitter Impairment Capabilities with Exceptionally Low Intrinsic Jitter Levels

BEAVERTON, Ore. -- Tektronix, Inc., a leading worldwide provider of test, measurement and monitoring instrumentation, today introduced the BSA286CL BERTScope Bit Error Rate Tester.  The BSA286CL is designed for the low intrinsic jitter and precision impairments required for testing a broad set of 100G communications standards including OIF-CEI, CAUI, and InfiniBand Standards.

Receiver testing has become increasing important in 100G electrical systems and silicon testing. With the advent of sophisticated silicon receiver equalization, higher levels of jitter tolerance must be tested, debugged and margined. Until now, available bit error rate testers have been unable to generate the requisite degree of impairments with a low enough jitter noise floor to perform these tasks effectively. The BSA286CL is the industry's first to fully meet these precision impairment and error analysis requirements, along with ease of use which BERTScopes are renowned for.

"Inphi's commitment to leading the industry in optical technology, both at 100G and beyond, is helped by testing tools which provide precision impairment and lower noise to validate performance to key specs like OIF-CEI 3.0,"  said Mark Marlett, senior principal engineer, Inphi.

When 100G silicon characterization engineers test their OIF-CEI-28GVSR systems, a key requirement is the ability to drive their parts into receiver margin failure before running out of precision impairments in their BERT. The BSA286CL has a fully re-designed jitter impairment system which incorporates state of the art modulation technology to 100G PHY Layer testing.

The 28.6 Gb/s BERTScope supports higher levels of Sinusoidal Jitter (SJ) and other jitter impairments while maintaining low sub 300 fs intrinsic jitter floor performance at key 100G data rates.

"The BSA286CL rounds out the comprehensive Tektronix high performance BERT portfolio which support key industry standards.  These products are all integral players in supporting the emerging 100G ecosystem," said Brian Reich, general manager, Performance Oscilloscopes, Tektronix. "In addition, with our recent acquisition of Picosecond Pulse Labs, Tektronix now offers the industry's broadest selection of BERT-based technology combined with high performance oscilloscopes, giving customers a total solution to all their 100G needs."

Another new capability in the BSA286CL is Combined Random, Bounded Uncorrelated and High Frequency Sinusoidal Jitter (RJ, BUJ and SJ) impairments up to 28.6G offering combined levels exceeding 7.5UI over a broad range of required jitter tolerance (JTOL) frequencies.  An industry first, this capability is key to meeting OIF-CEI 3.0 JTOL specifications as well as similar needs found in IEEE802.3bj 100G specifications.

The BSA286CL adds to the test & measurement industry's broadest communications test portfolio of BERT's. The Tektronix BERTScope(TM) & PatternPro(TM) families provide a broad range of signal conditioning and BER analysis from 500Mb/s to 40Gb/s across 1-4 channels.

Pricing & Availability
The BSA286CL system will be showcased publicly at the May 22, 2014 Meet The Expert's forum held on the Tektronix Santa Clara campus.  In addition, the BSA286CL will be featured in an OIF Industry Interop at the ECOC Trade Show in Cannes, France. General availability is June 2014. Prices start at $347,000 US MSRP.

Wondering what else Tektronix is up to? Check out the Tektronix Bandwidth Banter blog and stay up to date on the latest news from Tektronix on Twitter and Facebook.

About Tektronix
For more than sixty-five years, engineers have turned to Tektronix for test, measurement and monitoring solutions to solve design challenges, improve productivity and dramatically reduce time to market. Tektronix is a leading supplier of test equipment for engineers focused on electronic design, manufacturing, and advanced technology development. Headquartered in Beaverton, Oregon, Tektronix serves customers worldwide and offers award-winning service and support. Stay on the leading edge at www.tektronix.com.

Tektronix is a registered trademark of Tektronix, Inc. All other trade names referenced are the service marks, trademarks or registered trademarks of their respective companies.

CONTACT:
Amy Higgins
PR Manager
Tektronix
ahiggins@tektronix.com
503.627.6497