Battery and System Tester incorporates thermal printer.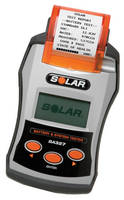 Battery and System Tester incorporates thermal printer.
August 17, 2010 - Comprised of digital battery and system tester with integrated printer, SOLAR's Model BA327 offers complete testing solution for 6 and 12 V batteries with operating range of 40-2,000 CCA as well as 12 and 24 V starting/charging systems. It works with various battery types and delivers guided operation for accelerated and accurate assessment. Incorporated counter tracks number of tests performed to track usage, and printer produces service documentation on standard thermal paper.

(Archive News Story - Products mentioned in this Archive News Story may or may not be available from the manufacturer.)
Original Press release

Clore Automotive
8735 Rosehill Rd, Suite 220
Lenexa, KS, 66215
USA



SOLAR BA327 Digital Battery & System Tester with Integrated Printer from Clore Automotive


Clore Automotive introduces Model No. BA327, a digital battery and system tester with integrated printer, from SOLAR. This model offers a complete testing solution for 6 and 12 Volt batteries and 12 and 24 Volt charging systems. Compatible with a wide variety of battery types, it features easy, intuitive operation with quick, accurate assessment of battery condition and starting and charging system performance.

Testing is quick and easy and allows the operator to perform either a battery test, system test or both from the home screen. The tester walks through the test sequence, prompting for key pieces of information and guiding the operator from one step to the next. It will test 6 and 12 Volt batteries with an operating range of 40-2000 CCA and will provide an analysis of 12 and 24 Volt starting and charging systems. The BA327 is compatible with many different types of batteries, including Conventional, Maintenance Free, AGM, Gel Cell, and Marine Starting Deep Cycle batteries.

Its integrated printer provides easy service documentation, printing out clear and accurate readings in just seconds. The printer uses standard thermal paper that is readily available at any office supply store. In addition, the printing stage can be easily bypassed if a printout is not necessary. The tester features a counter to track the number of battery and system tests performed so shops can track tester usage.

The tester assigns a unique code for each battery test performed for warranty or service documentation. It also incorporates a number of features that improve convenience during testing, including reverse polarity protection, extra-long cable leads reaching 10' and a rugged case for safe, secure storage.

Clore Automotive is a leader in the design, development and manufacture of automotive service equipment for professionals and consumers, including jump starters, battery chargers, battery testers,power inverters, heavy-duty starting equipment, cooling system service equipment and automatic transmission fluid exchange equipment. More information can be found at www.cloreautomotive.com.

---