Battery Charger incorporates digital control circuitry.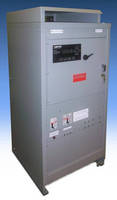 Battery Charger incorporates digital control circuitry.
September 10, 2012 - Along with PWM control systems, digital ProcessPower® DCR utilizes SCR phase control to provide regulated DC output and limited current via smoothing filter. Thyristor-based system comes in 32-1,250 A sizes for battery voltages of 24, 48, 120, and 240 Vdc. Able to operate with or without batteries, unit is designed for conversion of AC to DC power for charging batteries while supplying power to continuous DC loads such as inverters. Control and alarm set-points may be defined by user.

Original Press release

AMETEK Solidstate Controls
875 Dearborn Drive
Columbus, OH, 43085
USA



Ametek Solidstate Controls Launches Next-Generation Digital Battery Charger


COLUMBUS, OH-- AMETEK Solidstate Controls, a leader in highly customized uninterruptible power supplies (UPS), has launched the DCR-the latest addition to its digital ProcessPower® line of industrial battery charging systems.

Along with the state-of-the-art PWM control systems and industry-leading reliability for which Solidstate Control is well known, all DCR units carry UL certification along with the smallest industry footprint for ease of installation.

Solidstate Controls offers the DCR in sizes from 32A up to 1250A for battery voltages of 24, 48, 120 and 240 VDC. The DCR also incorporates new digital control circuitry to enhance communications and charge control.

With the introduction of the DCR, Solidstate Controls strengthens its worldwide presence, which currently consists of a sales and technical assistance network in more than 20 countries and installed equipment in more than 70 countries worldwide.

AMETEK Solidstate Controls is a recognized leader in highly customized inverters and UPS systems for critical processes involving harsh environments such as power generation (including fossil fuel and nuclear power utilities).

In 2012 Solidstate Controls celebrates 50 years of building the world's most robust and reliable inverters and UPS systems. All AMETEK Solidstate Control inverters and UPS systems come with custom design assistance, global 24/7 field service and 40-year design life.

AMETEK Solidstate Controls has administrative and manufacturing operations at its world headquarters in Columbus, Ohio. It is a unit of AMETEK, Inc., a leading global manufacturer of electronic instruments and electromechanical devices with annual sales of more than $3.0 billion.

For additional information, contact Solidstate's Marketing Department at 875 Dearborn Drive, Columbus, OH 43085 USA. Phone: 614-846-7500. Fax: 614-885-3990. Web site: www.solidstatecontrolsinc.com.

---


Start Your

Free


Subscription to


Industry Market Trends

.