Product News: Machinery & Machining Tools, Materials & Material Processing
Batch Attritor can accommodate processing of specialty ceramics.
Press Release Summary: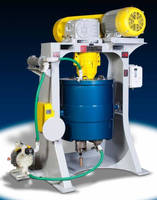 August 26, 2014 - Available with variable frequency drive, S-50 does not require any premixing and can maintain temperature control via use of jacketed tank. Construction negates metal contamination via 304 stainless steel tank lined with polyurethane; plastic-sleeved, stainless steel agitator shaft, and zirconium oxide-tipped and polyurethane-coated, stainless steel arms. Milling system includes air diaphragm pump for circulation to improve grinding and accelerate discharge.
Original Press Release
Union Process Manufactures S-50 Batch Attritor for Customer Processing Specialty Ceramics
Press release date: August 19, 2014
Akron, OH. . .Union Process, Inc., known globally as a manufacturer of particle size reduction and dispersing equipment as well as related services for a broad range of research and industrial applications, has built an S-50 Batch Attritor for a global customer who is using the mill for a new process which involves grinding specialty ceramics.

As the product can have no metal contamination, the 304 stainless steel tank is lined with polyurethane, the agitator shaft is plastic-sleeved stainless steel, and the stainless steel arms are zirconium oxide tipped and polyurethane coated.

A Halar-coated product discharge assembly has been included with a plastic bar grid located on the bottom of the tank. The two-piece tank cover is constructed of stainless steel with a nylon coating facing the product.

As multiple shaft speeds were desired, a variable frequency drive was provided. The milling system included an air diaphragm pump for circulation to improve grinding and to quickly discharge the mill.

Like all batch milling Attritors, the S-50 does not require any premixing. Material can be directly fed into the jacketed grinding tank. Temperature control can be maintained due to the use of the jacketed tank. Wet grinding batch Attritors are simple to operate, energy efficient and require very little maintenance. No special foundation is required.

Union Process is the inventor and developer of Attritor technology and manufactures wet and dry grinding mills as well as horizontal bead mills.

Company Contact
Union Process, Inc.
Emery Li
eli@unionprocess.com
330-929-3333

Agency Contact
Clayman & Associates
Marjorie Clayman
mclayman@claymanandassociates.com