Product News: Computer Hardware & Peripherals, Labels, Tags, Signage & Equipment, Automatic ID
Barcode Printers feature RFID Gen 2 interoperability.
Press Release Summary: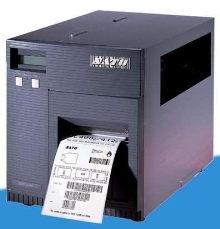 August 18, 2005 - Featuring UHF RFID multi-protocol technology, industrial, tabletop Models CL408e and CL412e support Class 1 and Class 0+, as well as ISO 18000 standards, which are widely accepted throughout Europe. RFID module also supports worldwide frequency bands for use around the globe.
Original Press Release
SATO Announces RFID Gen 2 Interoperability with CLe Series Printers
Press release date: August 12, 2005
Singapore, 12 August 2005 - SATO Asia Pacific., a global leader in barcode printing, labeling, and EPC/RFID solutions, today demonstrates RFID Gen 2 interoperability with its CL408e/CL412e RFID-enabled thermal barcode printers.
The demonstration was conducted in SATO's RFID testing labs and is the latest development in SATO's continuing commitment to provide reliable and innovative RFID products based on customers' demand.
The SATO CL408e and CL412e printers offer the latest in UHF RFID multi-protocol technology by supporting Class 1 and Class 0+, as well as ISO 18000 standards, which have been widely adopted throughout Europe.
SATO's RFID module can also support worldwide frequency bands for use around the globe.
The industrial tabletop CLe Series RFID printers deliver high-speed, high performance label throughput, as well as proven reliability and rugged design, making them ideal for any industrial, desktop application.
Stephen Hull, RFID product manager of SATO America commented, "SATO has been working diligently to complement its RFID offerings with Gen 2 capable printers. To do so, we have worked closely with Gen 2 inlay manufactures to create a truly interoperable RFID printer. With these efforts and strong alliances, SATO hopes to make adoption of Gen 2 as seamless as possible for all of its customers."
The CL408e/CL412e RFID Gen 2 ready printers will be commercially available when Gen 2 tags become readily available and firmware is complete. For more information, please contact us at sales@satoasiapacific.com
About SATO SATO is a pioneer in the Automatic Identification and Data Collection (AIDC) industry, and the inventor of the world's first electronic thermal transfer barcode printer. It revolutionised the barcoding industry by introducing the Data Collection System (DCS) and Labelling concept - a total barcoding and labelling solutions approach providing high quality barcode and RFID printers, scanners/hand held terminals, label design software and consumables.
SATO is a public listed company in Japan and has worldwide offices in United States, Germany, United Kingdom, Poland, Belgium, France, Singapore, Malaysia, Thailand, China and India . SATO stock is traded on first section of Tokyo Stock Exchange.
Contact SATO Asia Pacific Pte. Ltd Ms Chong Kit Lee, Marketing Executive 438A Alexandra Road, Alexandra Technopark #05-01/04 Singapore 119967 Tel: +65 271 5300 Fax: +65 6273 6011 E-mail: kitlee@satoasiapacific.com