Product News: Fluid & Gas Flow Equipment
Ball Valves feature twin rack and pinion design.
Press Release Summary: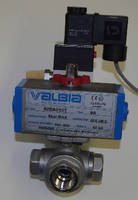 April 2, 2014 - Available in 18 brass or stainless steel models with 2-way or 3-way configurations and ¼–4 in. pipe sizes, 8P Series of Direct Mount Pneumatic Actuated Ball Valves can be customized by OEM to meet application requirements. Units feature unique stem seal design and O ring back TFE seats which minimize operating torque, enabling use of smaller actuators. Offering 0–90° rotation and choice of double acting or spring return actuators, valves are intended for use with media ranging from -4 to +185°F.
Original Press Release
New Ball Valves Require Less Power, Provide Smaller Footprint
Press release date: March 26, 2014
Clark Solutions 8P Series of Direct Mount Pneumatic Actuated Ball Valves feature a unique stem seal design and technologically advanced "O" ring back TFE seats which dramatically reduce operating torque. These exclusive design features enable engineers to use smaller actuators, reducing footprint and power requirements in many applications. 

Hudson, MA – Clark Solutions introduces the 8P Series of Direct Mount Pneumatic Actuated Ball Valves. Available in 18 brass or stainless steel models with 2-way or 3-way configurations and 1/4" to 4" pipe sizes, 8P Pneumatic Actuated Ball Valves can be customized by original equipment manufacturers to meet the requirements of virtually any application. 

All Clark Solutions 8P Series ball valve actuators feature a compact twin rack and pinion design and an adjustable 0-90° rotation.  Most models are intended for use with media having temperatures ranging from -4°F to +185°F. An available high temperature option extends this range to 302°F and a low temperature model designed for media temperatures of -40°F is also available.

Selected 8P Series Ball Valves feature 2-way brass full port valves and a choice of double acting actuators or spring return actuators available with stainless steel stems. Additional 8P Series Ball Valves are designed with 3-way brass "T" port or "L" port valves, and a choice of double acting actuators or spring return actuators.

In addition to brass models, stainless steel models are also available featuring 2-way full port valves and a choice of double acting actuators or spring return actuators. Additional stainless steel models are available with either standard port valves or full port valves, in "T" or "L" configurations. 

Clark Solutions has a fifty-year history of providing unique solutions to the control, measurement, and monitoring of flow, energy, pressure, force, and level in liquids and gases.  Located in Hudson, Massachusetts, the company offers a wide variety of valves, including ball valves, pneumatic valves, inert isolation valves, solenoid operated valves, valve actuators, pinch valves, manifold valves, globe valves, butterfly valves, needle valves, and miniature and subminiature valves.  Instrumentation offerings include devices to record, monitor, and control flow, velocity, pressure, temperature, humidity, level, gas concentration, energy, and other properties.  Clark Solutions also provides a wide range of pumps for air, gases, and liquids, including diaphragm pumps, peristaltic pumps, piston pumps, rotary vane pumps, gear pumps, impeller pumps, centrifugal pumps, and bellows pumps. 

For more information, contact Clark Solutions, 10 Brent Drive, Hudson, MA 01749, Tel. 800-253-2497, Fax 978-568-0060, email sales@clarksol.com, or visit our web site at http://www.clarksol.com.

Product URL:  http://www.clarksol.com/html/ball-valves-8P-series.cfm